In case you're unfamiliar with the acronym, GCRL stands for "Garvey, Cey, Russell, Lopes" a finely run Dodgers blog by my new friend Jim. He claimed the Dodgers in my Spring Cleaning and sent an awesome collection of stuff in return.
Jumping right in, GCRL hooked me up with three complete, or nearly complete team sets. This one is 1994 Topps.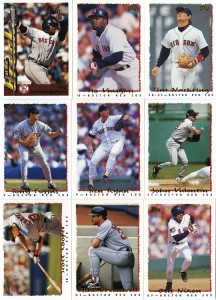 1995 Topps, in all it's fuzzy deckle border glory.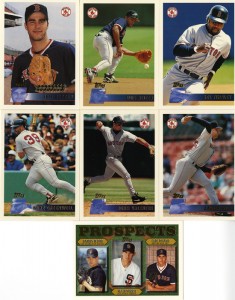 And 1996. The funny thing about 1996 is that it's actually a pretty solid design. I couldn't really figure out why people didn't like it when they used it as a parallel in 2011 Chrome. With the exception of the "ghost face", it's actually not bad. Stick the logo down there instead and it's practically 2011 Flagship. Maybe that's why people didn't like it. Regardless, I needed all three of these sets, or at least a good start to them. Now that I've got my foot in the door, I'm sure I'll be able to find the rest.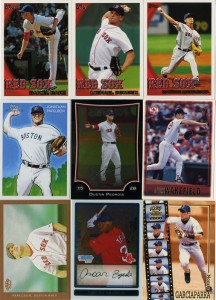 A couple more for my 2010 checklist, plus a couple of great player additions. I was missing all those!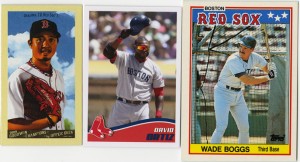 A couple nice minis. I don't think I had any of the 2009 Goodwin Champion minis either. I liked that set quite a bit, and the minis might be something fun to chase.
Some great vintage, including a very nice Rico Petrocelli! That's a huge upgrade over my current one, which was miscut and soft.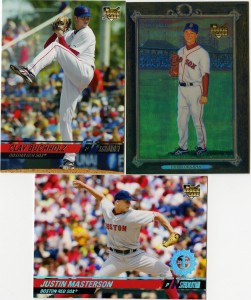 Three completely fantastic RCs in there. Justin Masterson, Stadium Club, first day RC. Buchholz Stadium Club RC (didn't know that even existed!). And a card GCRL was trying to sneak by me, 2007 Turkey Red Refractor Okajima, number 36/99!! Sweet!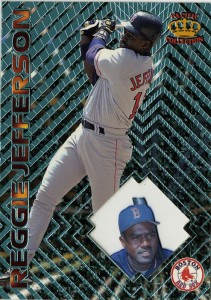 Next up, a sweet Pacific Reggie Jefferson, blue foil, spanish back. A couple months ago I posted the "Gold" version, with an English back and I thought it was pretty neat. Now I have a great looking parallel as well!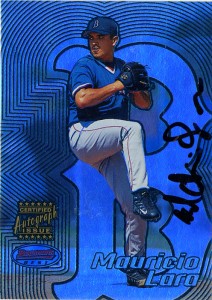 Last but not least, 2002 Bowman's Best auto of Mauricio Lara. Honestly, I had no idea who Lara was. I had to rely on on Baseball Reference for that one. Turns out he played low, middle and high A ball for the Sox from 2000-2002, then went down to the Mexican leagues where he played for 13 seasons! He never made it big, but you don't stick around for 13 seasons unless you love the game. I'm going to have to do some more research on Lara. I'd love to hear his story.
Anyway, thanks GCRL for the awesome package. Those are all awesome additions to my collection. Thanks for the trade!