Moving away from return packages for the moment, I also received the group case break loot from Sam's 2013 Gypsy Queen case. He landed plenty of awesome autos and relics, but unfortunately, I was hitless. On the bright side, that landed me an extra spot in the "whole set" raffle. With shared dupe base cards alone Sam was able to put together 3 complete sets, and I got randomized one of them!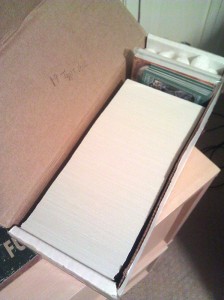 The whole box showed up earlier this week and I immediately started putting it into a binder. At the top there, you can see my separate team set (to go in my team binder) as well as my minis.
So, I cracked open a new box of pages, grabbed a binder, and started filling…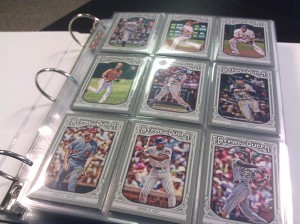 The whole set looks awesome together. I know I'm a bit of a Gypsy Queen apologist, but I do like them. Nothing is going to touch the 2011 set, it's still far and away my favorite, but I think they made enough improvements over 2012 that this easily takes 2nd place.
Then, mid set, I realized something…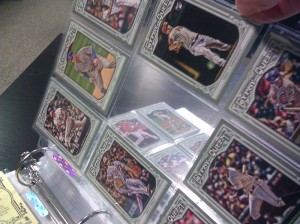 This looks fucking terrible! I "get" the concept of short prints. It's something extra to chase. It's crack for the completionists out there. What I don't get is why on earth they're mixed into the base numbers. 1-300 base, got it. 301-350 short prints. Good. That's a concept I can get behind. Why? Because I can stop at 300 if I want to. This? This is complete bullshit.
I'm lucky that I had short print #7 (Mike Schmidt) from one of my blasters, otherwise the first freaking page would have had a hole in it. This is aweful It makes an otherwise awesome set look like  complete crap. They know we use binders right? That's not some weird thing that only I do, right? Someone, at some point, thought this was a good idea, and that thought blows my mind.
All in all, I had 10 of the 50 short prints, so they went in along with the set. So, I guess I'm having to chase 40 more. Which, I also "get", and is probably Topps' reasoning behind this. "Heheh, lets mix in the shortprints, it'll keep them buying more and more trying to chase them all! Muwahahah". Yeah. No. Ebay bitches. You think I'm going to give Topps a dime more and chase the rest of these through retail? Ha. I just bid on, and won, a couple different lots on ebay. I've got 20 more on their way to me and it's costing me about $6. They haven't popped up on COMC yet, but when they do I'll pick off the rest with my next order. The only ones I imagine might cost more than a few cents are #14 (Mike Trout) and #99 (Darvish). Those are a couple bucks each on ebay, which is also ridiculous. Screw that.
I am going to complete the set, it's just a matter of time. It'll depend on how fast the cost comes down on the secondary market. By next year I'd imagine I could finish the whole thing rather easily. So, that said, a check list is in order. I'll repeat this list over on my Wants List as well, just for reference sake. So check over there for any updated versions of this list. Also, since I have more than half the inserts, I figured I'd finish those off as well.
(updated 4-20)
Base (non-sp) Complete: 300/300
Short Prints: 16/50
Missing: 14, 19, 28, 62, 87, 92, 97, 99, 114, 122, 124, 126, 144, 162, 181, 183, 187, 198, 204, 213, 215, 218, 239, 258, 267, 277, 288, 295, 302, 318, 330, 331, 334, 346
No Hitters: 10/15
Missing: Jim Abbott, Justin Verlander, Kevin Millwood, Phil Humber, Roy Halladay
Dealing Aces: 11/19
Missing: Sabathia, Kershaw, F.Hernandez, G.Gonzalez, Weaver, Bumgarner, Dickey, Darvish
Sliding Stars: 9/15
Missing: Jackson, C.Gonzalez, Jeter, Griffey Jr., Brock, Braun

Collision at the Plate: 7/10
Missing: Posey, Montero, Rosario
Glove Stories: 9/10
Missing: Bernadina
All that might seem like I'm not grateful for the set, which isn't true. Getting 300 cards out of a group break is awesome, especially a set I really enjoy. Even though I went hitless in the break, this more than makes up for it. Without these, I doubt I'd be trying for the set at all. I just wish they would have thought out the short print situation a bit more.
I'd also like to note that this may have been Sam's last break for a little while. With Topps almost certain to continue with more shenanigans like what I outlined above, the enjoyment is quickly diminishing for a lot of collectors. Money, time, effort, are all things that are in short supply and Topps isn't doing anything to help. I can completely understand getting burnt by and/or burnt out on things like this. If I bought half the number of boxes Sam does, and all I got were half complete sets, crappy hits, and none of my favorite team, I think I'd be a little put off too. Sam's a good friend, both personally and hobby-wise. I know I will miss his breaks dearly. They were a big part of my collecting. As always, I'll continue to read his blog, listen to his adventures, marvel at his genius, and enjoy his very seldom dimwittedness, and I'd urge you all to do the same.