Someone posted a while ago about how, as a group, we're always posting about cards we receive, but rarely post about cards we're trying to find. I also noticed Spankee's post about "if I had $1600". I thought a combination would be interesting. What would I buy if I had the money. So, no limits money wise, but I'm not going to include any $5,000 cards on this one. I don't really "need" any Babe Ruth bat knobs. So, here's my ultimate "if I won the lottery" list of cards I would buy.
For starters, I would want to knock out a few base sets. I've always wanted mint sets of 1980-2008. I already have a bunch, so getting them all wouldn't be that hard, and this is actually a realistic goal as far as my collecting goes. It's already on my to-do list, I would just knock it off first and foremost if money was no object. Since I already have '86, '87, '89 and '90, I can leave those out. The 1980 set is the most expensive at roughly $65, the rest are in the $25-30 range.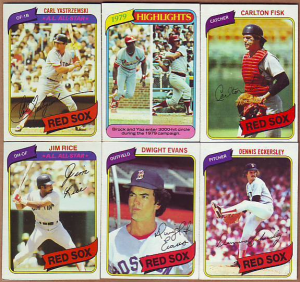 Those are complete sets by the way, not just team sets. I would be completely ok with team sets only. Not only would it be cheaper, but it would take up considerably less space. I could put an entire decade in a single binder. That's a more realistic goal, and probably what I'll do.
The 70's is where I think the price, coupled with rarity, starts precluding me from buying entire sets and switching to team sets is probably a given. I'd love team sets from '79, '76, and '74. Those are my favorite designs, from favorite sets, featuring favorite players.
70's team sets – $22, $20, $25 respectively.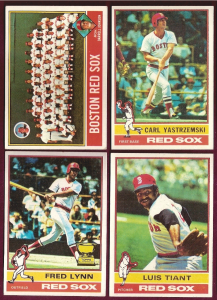 There are also quite a few modern sets I missed the boat on. I'd very much like to complete team sets for things like 2006 Allen & Ginter, or 2004 Topps Chrome.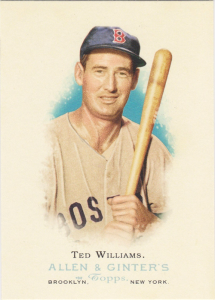 After knocking off sets that I've always wanted, I'd have to chase a few rookies from my favorite players. I'd love a 1965 Luis Tiant, a 1960 Carl Yastrzemski, a 1972 and '73 Carlton Fisk, 1997 David Arias (Ortiz), and a 1992 Tim Wakefield. I already have '92 Team USA cards for Nomar and Varitek, but maybe the "Gold" version, or the Topps Tiffany versions as well, since we're shooting for the moon.
1965 Luis Tiant – $60-150
1960 Carl Yastrzemski – $70-200
1972 Carlton Fisk – $30-100
1973 Carlton Fisk – $5-30
1997 David Ortiz – $12-25
1992 Tim Wakefield – $5-25 (graded)
I would have included a Ted Williams in the list, but let's be serious, that's just never going to happen. Plus, which one would I want. The oldest, the 1939 Play Ball? Or the more iconic 1954 Topps?
That brings up another interesting collection dream though. The 1959 Ted Williams set. I love this set. I have 2 cards from it, in mediocre condition. I'd love to have more.
The complete 1959 Ted Williams set (80 cards) – $700-1500 total (depending on quality), or $10-25 each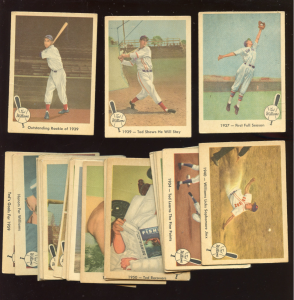 So, sets are taken care of, iconic rookies are taken care of, what's left? Awesomeness is what's left. Cards I've always wanted but that were just a little out of reach.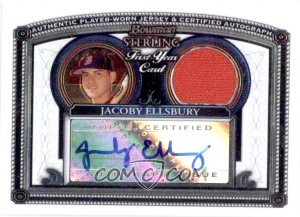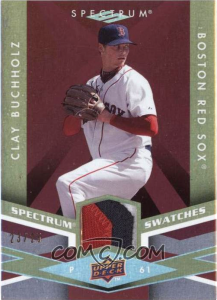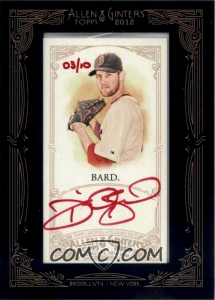 After that, I'd probably just start filling in holes in my collection, or start at the very bottom of the player collections I have going and try and pick up as many as humanly possible. I'd fill up an order on COMC and clean them out of every Nomar card they have, or at least one of each. From there, with baseball wrapped up, I'd probably turn my attention to hockey. I could see myself picking up some Ray Bourque, Cam Neely and Phil Esposito and Doug Mackenzie rookie cards without hesitation.
Thinking about all the awesome cardboard that's out there, and how much I would enjoy chasing it all kind of puts everything into perspective. I've only just begun, and clearly there are more cards from the past that I'd like to own than there are products on the horizon that I'm interested in. I've also been inspired to put some of the more realistic goals down in a "Top 10 Most Wanted" list. Some of you guys have them as well, and I thought it was about time I joined the party. My Top 10 are only going to be realistic goals. Actually obtainable, under $30 a card sorts of things. It might actually help me in deciding what direction I'd like to go as a collector.
As always, thanks for reading.