A couple weeks ago, Wes, aka JayBarkerFan decided to show the card community the power of a single stamp and a PWE. I was lucky enough to be on the receiving end of some of that random act of kindness.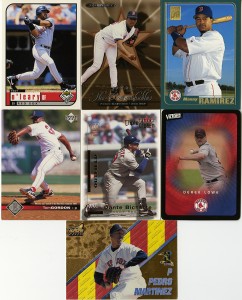 Wes crammed 7 awesome cards into a single PWE and sent it my way. A '99 UD Choice Troy O'Leary, a '98 Donruss Pedro Martinez "Untouchables", a 2001 Topps Manny Ramirez, '97 UD Tom Gordon, 2001 Fleer Triple Crown Dante Bichette, 2003 Victory Derek Lowe, and lastly, a completely awesome 1998 Pacific Aurora Pedro Martinez. Very awesome cards, and all new to the collection!
Wes, rest assured that this random act of kindness will be both repaid, and paid forward! Thanks again!