I, like most of you, made a rather large purchase at COMC on Black Friday. The exception being that mine just arrived, and you guys were blogging about yours last week. Oh well. At least it showed up, right?
I can't really claim I got anything mind blowing, but I did manage to destroy a huge chunk of my set want-lists, effectively finishing off most of 2011-12, save for a few short prints. That was huge for me. Those finished pages in the binders give me that little happy internal nerd smile. You know the one I'm talking about.
Anyway, here's the haul.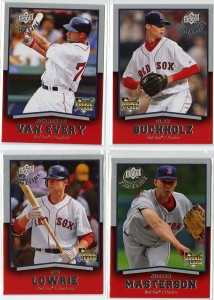 First up, a quartet of RCs from 2009 Timeline. UD Timeline was that beyond-bizarre set where everything except #1-50 was short printed. 51-100 were all rookies, and then there were retro looking variations, moments in time, timeless moments, something like that. Basically, there were about 8 Sox cards total with this design, and I was missing four of them. Surprisingly I had all the much harder to find ones. Go figure.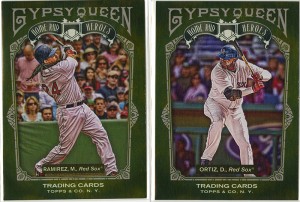 Next up, the two missing inserts from 2011 Gypsy Queen. I have no idea how I missed out on these, I bought more GQ last year than anything else. All I need now is that ultra rare SP of Babe Ruth in a Sox uniform, and I'll have a complete set.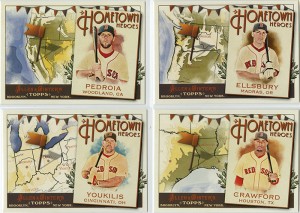 Going from something I bought a ton of to something I hardly bought any of, I can completely understand why I didn't have these 4. 2011 Ginter was not my favorite, and collecting the inserts was even lower on my list. Still, it's good to knock them off the check list once and for all.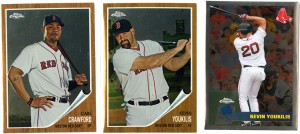 Next up, two Chrome Heritage inserts and one "retro" parallel. All three were missing from my set. I'm kinda surprised I hadn't picked these up before. I really liked Chrome last year.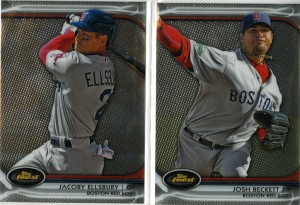 Now we're moving into 2012. These were the last two Topps Finest base cards I needed. I've always liked the look of Finest, but it's such a weird in-between set in the Topps product line, and being Hobby only (and not having a LCS) means I can only find it if someone is breaking it.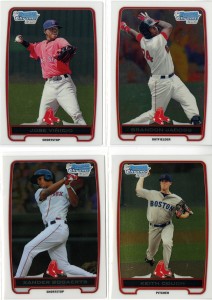 Chrome Bowman's, not Bowman Chrome. I had the base set already, but I was missing the 4 "Chrome 1st Cards" parallels. I could go off on how confusing it is to have chrome within a set, and then have a chrome set on it's own, and how they seriously need to fix that, but I think we all agree on that already, so I'll refrain.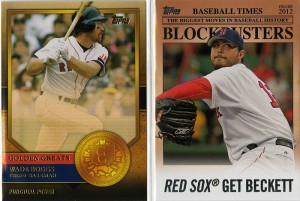 Missing inserts. Stupid, stupid inserts.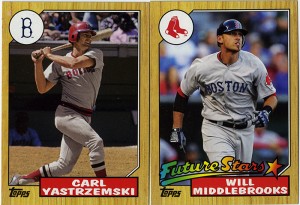 Decidedly less-stupid inserts. I was missing these two minis from Update. I had acquired the Jim Rice from Ryan in our last trade. That finished off all of Flagship for this year. Yay!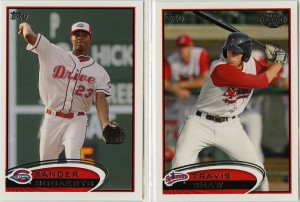 One of Kyle's last breaks included some Topps Pro Debut and I was just one short (Bogaerts) but I had also fudged the corner of my original Travis Shaw, so that one was a replacement. Also from that set…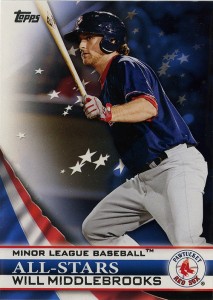 Apparently I'm just having a tough time pulling Will Middlebrooks cards this year. I've had to fight and dig for most of them. Even on sale, this one was still a couple bucks, which I just can't even understand for an insert. Whatever, team set complete!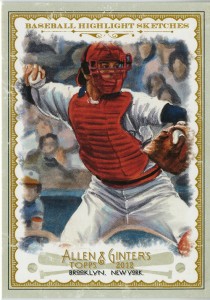 I finished my normal player cards for Ginter within a week of it's release, but it's taken me this long to track down this Highlights Sketch. I like these a bunch, it's just stupid it took me this long to find it. Especially with the amount of Ginter that people open every year.
I had a purple, I had a chrome, I even had a green serial numbered version, but the base version eluded me. No longer! BOWMAN PLATINUM COMPLETE! Muwhahaha! On a completely separate side note, I did finally complete an entire 1-100 set, but I'm also just 16 shy of a 2nd set. So, if anyone has those last 16 and/or if someone is interested in 84% of a set, just let me know. Otherwise I'll break them down into teams for my big box o' randomness.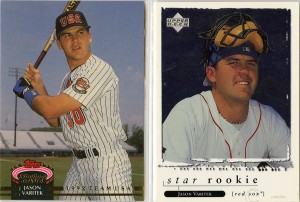 Alrighty, now it's time for a few random fun cards, just for the personal collection. A 1993 Stadium Club #197, and a 1998 Upper Deck #276, both important early cards for Tek. I had the '98 UD but mine was in less than mint condition, and the 1993 Stadium Club was one I had been meaning to pick up forever. Anyone else notice the ALUMINUM bat in the Stadium Club photo? That strike anyone else as odd?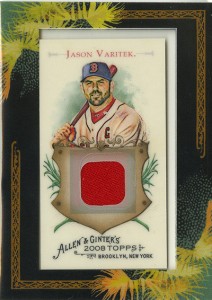 Next, a nice 2008 Ginter relic for the Captain. I missed out on early Ginter entirely, so picking up these older relics is just for fun before I decided to find the actual set later on. Much, much later on.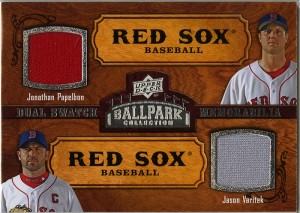 Last but not least, a very nice duel relic for Tek and Papelbon. A very nice addition to the collection.
Grand total from COMC: $33.70. Not bad for clearing off a huge percentage of my needs list. That's what the off-season is for, right? Thanks for reading!