Saying that title out loud makes me a little sad. Kyle had some truly great breaks, and was a genuine stand up guy. He may be taking a break from the hobby, but he made sure his last break was a doosy. We also swapped randomness in the end. I sent him some Royals stuff and he returned the favor with Sox.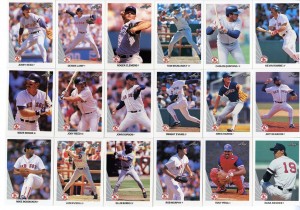 Kyle ended up breaking 5 (I think) boxes of 90's goodies and a final box of 2012 Pro Debut. Let's start with the retro stuff. This is 99% of the team set for 1990 Leaf. I think the only card I'm missing is a Mike Greenwell. It's really fun for me to see these older sets because while I wasn't collecting at the time, these are the guys I remember watching when I was younger.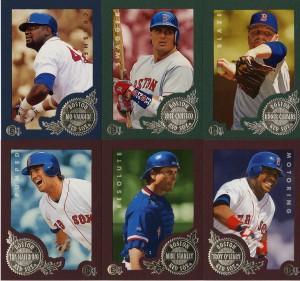 Next up, a nice colored border selection from e-XL. I don't actually know if the colors represent some sort of rarity. Anyone know?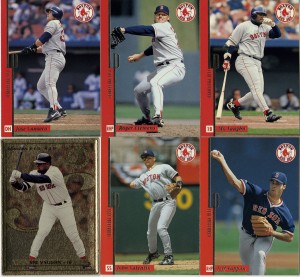 Leaf Preferred. Yes, that's a metal card. Yes, I peeled it. I'm probably in the minority here, but leaving that "protective film" on cards like these is a shame. I don't care if it hurts the resale value, or the potential grading. I'm not planning on doing either. I'd like to see the card the way it was meant to be seen. That film isn't supposed to be permanent. That's like saying the gum in your old packs should be kept with the cards, you know, for "value". PEEL'EM!…. then put'em right in penny sleeves, lol.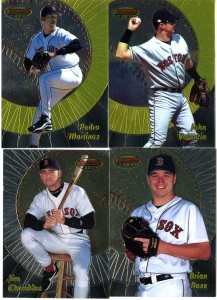 Some 90's Bowman's Best. Always liked Bowman's Best. That Pedro is especially nice.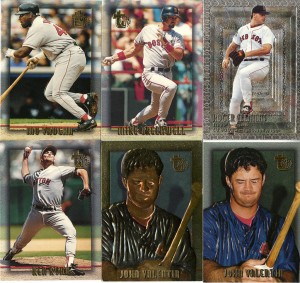 1995 Topps Embossed. Now, we've got to pause to ponder that John Valentin card for a moment. That card is in a category all it's own for pure ugliness. And I'm talking about the regular version. Whoever thought using a photo of John farting, blinking, rubbing his wood… all at the same time… was hopefully fired a long long time ago. What makes it even worse, and perhaps in the running for the worse card ever, is the "special" gold embossed version. Embossing only works on certain photos, and this is a prime example of a card they should have just left alone. I mean…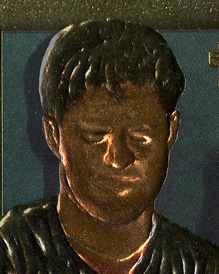 Really? Durp?
For the record, here's a photo it actually works on. My 2nd team in the break ended up being the A's.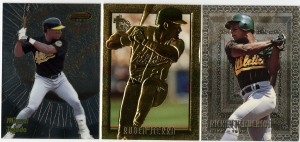 That Rubin Sierra looks really cool. Almost like those *cough* "24k Gold" cards they try and sell on late night TV. That Rickie also looks absolutely fantastic by the way.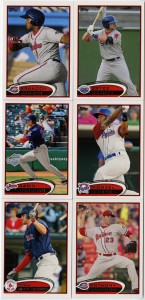 Back to the modern age. 2012 Topps Pro Debut. I wasn't planning on buying any of these myself, but I actually like them and might have to find the rest (I think I'm missing 2-3). I got the Middlebrooks and the Brentz, which were the two I wanted the most. Oh… and this beauty…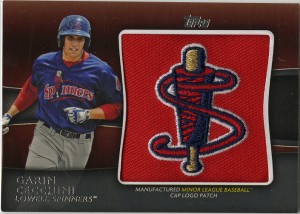 Wow. That's far and away one of the nicest manu-relics I've seen. Not only that, but it's from the closest and most familiar minor league team to my old New England home. Lowell was about 30 minutes away and I've been to a couple Spinners games before. So, a little bit of home, in an epic patch.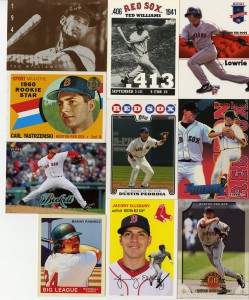 Now we move from the stuff in the break to the stuff Kyle sent along for our mini "randomness" trade. The TriStar Lowrie in the corner is epic, and something I've nearly pulled the trigger on buying numerous times. The mini Manny is also one of a couple Goudey shortprints I've been looking for. And, of course, more Ted is always welcome.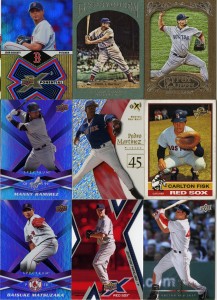 Ooooh. Shiny! Spectrum, UDX, eX and GQ borders! Kyle hit a homerun with these. Love'em all!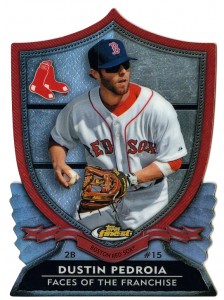 And finally, the crown jewel of the package. Pedroia "Faces of the Franchise" diecut from Topps Finest. Love these, they look incredible.
Kyle, thank you so much for not only these, but all the breaks and packages and personal emails. We're sad to see you step away from the hobby, but spending time with the family is the best possible reason to do so! Enjoy the time my friend!