Been a pretty random month for purchases. Mostly stuff off ebay, and most of those were to quell my Chrome disappointment. Let's start off with another warning why you never send anything of value in a PWE (if you're a seller on ebay).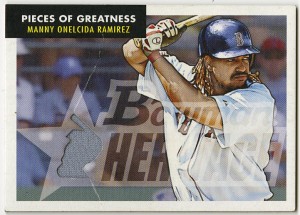 Bowman Heritage Manny relic. 4 crushed corners and a GIANT crease across the jersey spot. I won it for a penny, literally, so I'm not out any real money. The seller charged $2 for shipping and dropped it in a soft "rookie" sleeve and in a PWE. Worst kind of seller. Not even worth keeping this one. Found another on COMC for $2 that I'll include in my next order from there. Bah!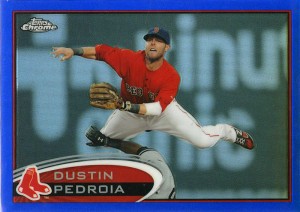 Now we begin the compensation for my lack of luck with Chrome. First up, Pedroia blue border, 005/199.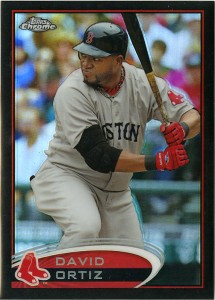 Ortiz and Gonzo black borders, both /100. These are going for less than a buck, and being out of 100, I may just try and put a team set of those together. They just look so damn cool.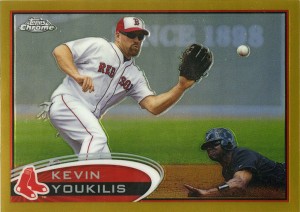 What's better than black? Gold! 09/50.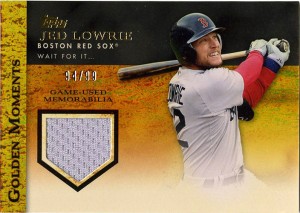 Speaking of gold, I didn't even realize there was a Jed Lowrie, in a Sox uniform, in flagship this year. Not only that, but a relic, and (although it's hard to see on the scan) one the the gold foil ones. 94/99 isn't exactly "low numbered", but anything out of /99 isn't too shabby in general. I also picked up an Ortiz from the exact same insert/relic series (gold, and numbered as well) but it wasn't yet here when I sat down at the scanner this morning.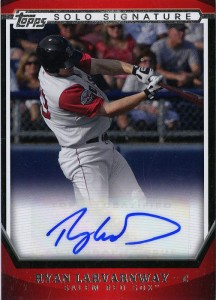 A very nice Lavarnway auto from last years Pro Debut. I was actually looking for a few from this year and this was among the results. Another nice $0.99 auto.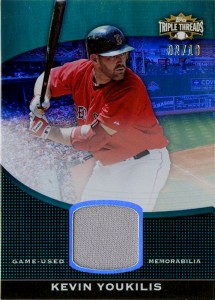 Last but not least, a relic from last years Triple Threads. Green/Emerald/Whatever version, 02/18. I have an Ortiz and another Youk already, but they're both out of (I think) 60 or 75. Being out of /18 probably makes this one of my lower numbered cards over all. Not bad for just a couple bucks.