Thanks to a quick trade with Sam last week, I've knocked out the Red Sox base cards and SPs from this years Allen & Ginter. I've mentioned before my thoughts on 2011 vs 2012, but I really do like these. I think this is probably one of the strongest Ginter designs that I've personally collected.
Anyway, Sam hooked me up with two of the short prints, the "What's in a Name" inserts and all the minis seen below, which was a huge help. Now there's only a couple of WiN cards left to chase.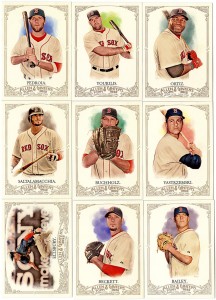 That's a nice looking set right there. That's in "binder position" as well.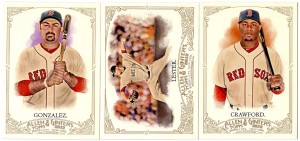 Next, the SPs and the What's In a Name.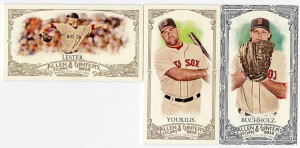 Finally, the mini's.
There's a total of 6 Red Sox "What's in a Name" cards, so I have 4 left to find, plus the "Highlights Sketch" of Fisk as well. Here's what I'm still looking for…
BH-19 Carlton Fisk – Baseball Sketch
WIN13 Carl Crawford – What's in a Name
WIN47 Jacoby Ellsbury – What's in a Name
WIN64 David Ortiz – What's in a Name
WIN70 Jonathan Lester – What's in a Name
If anyone has any of those, I'd be very interested in them.
Edit: Found the WiN cards. Still need the Fisk Sketch card!