With June we saw Tier 1 pop up on the grid and I, like most of you, "like" Tier 1 but don't really plan on buying much of it. The very concept of "4 cards in a box" just rubs me the wrong way. Buying 1 of those cards off the poor sucker that bought said box however, that I find completely acceptable. They're hoping to get $5k from their 1/1 Harper, I'm hoping to get that Ortiz jersey for $0.99, it's a win-win for everyone, lol. I also inched closer to finishing some sets, which makes me happiest of all. Let's see what the mailman brought this past month.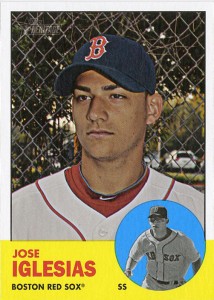 First up, the very last card I needed for Heritage. I had bought into multiple group breaks hoping to get it, but it's a tough pull. The upper end (and completely unreasonable end) pricing online was about $30. That wasn't going to happen. I ended up stalking a cheapo auction and grabbing this for $1.29 at the last second. Set complete!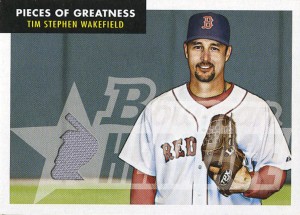 Next up, more Heritage, different set. I bought this guy for $0.99 just to add to my Wakefield collection. Now I've gotten most of the easy ones. Now it's on to the harder to find stuff.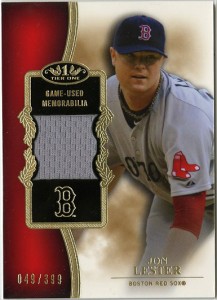 First up with the afor-mentioned Tier 1, a nice Lester jersey relic. 049/399. I do really like the look of these cards, I think they're quite nice, I'm just not going to pay an arm and a leg for them. With A&G coming out this week, these guys are only going to get cheaper. If you're looking at getting a couple Tier 1 cards, this is the perfect time to do it…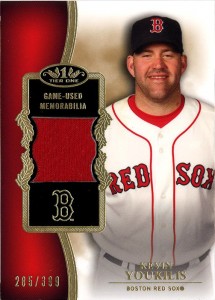 …and so I did. 285/399, a nice bright red Youk jersey. I figured I'd better pick a couple of these up before I start seeing black pinstripes and start "peeling onions" as they say. Most of what I saw was gray jersey, so I fought a little to get the red one. $2.50-something I think.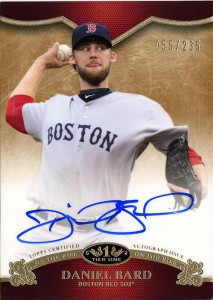 I'll admit it, the stock on poor Danny Bard isn't exactly high at the moment. I still believe he can be an effective pitcher, he just needs to throw out the past year or two worth of "mechanics adjustments" that some pitching coach got into his head. My brother (college pitcher for Dartmouth) pitched with Bard in the Cape Cod league a couple years ago. The guy was throwing nothing but high-90's heat. Now it's 91-92 because he's trying to get more movement on it. Forget that, just throw the gas Danny. I'm still a fan, I'm really pulling for him. I hope he makes it back to the majors and can be effective for a long time to come. As for the card, I completely love it. The red really pops and the blue auto is a great contrast. Getting 055/235 wasn't bad either. These are super cheap at the moment. If you're a Sox collector, you can find dozens for under a couple bucks.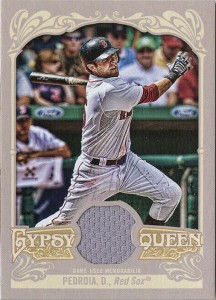 Next up, my latest edition to my GQ relic set. I had to really fight for this one. This was the first card I've paid more than $5 for in a while. $7.50 and it was mine. Only a couple more to go. I think I just need a Boggs mini, the the Ellsbury full-sized (which is nearly impossible to find).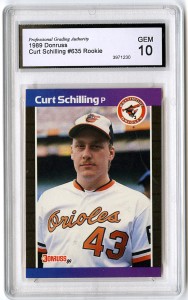 Last but not least, I have a saved search on eBay for "red sox", "$0.01-$0.99" and "free shipping". Usually it's just single base cards that end up in there, but I keep checking it every once in a while and interesting things pop up occasionally. I picked this up for $0.79. Shipped. I'm probably the last person on the planet to finally get around to owning a '89 Curt Schilling, but a graded 10 copy for under a buck. Yeah, I'll take that.
There we go. That was June. I waited until everything I ordered the last week of the month had arrived before I bothered scanning. I figure you guys would rather 1 long post you can skip through than 10 little ones.
Anyway. Ginter and Bowman Platinum come out in July, so this ought to be an interesting month. And on we go…