I've had my family in town all week, they came in for the 4th and to spend time with their grand-daughter. She's loved every minute of it because Grandma and Grandpa spoil her rotten, as they should. The wife and I always try to come up with interesting things to do whenever people visit and this time the subject of an Astros game came up. 20 minutes and $30 later, thanks for Stubhub, we're on our way. Not only that, but we got some pretty sweet seats.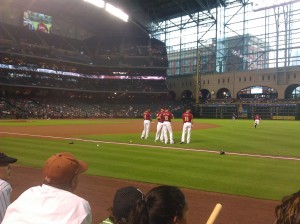 That's 1 section past 1st base (128), row 2. Not too shabby. You'd have to kill someone to get those seats at Fenway.
We got to the field about an hour and a half early, which I figured would be plenty of time to catch BP and maybe get some autographs. I was wrong. BP was long over and no one was signing except for Lucas Harrell, who I didn't bring a baseball card for (or even have one for that matter). I did bring my Lowrie and Altuve cards but apparently (according to the security guy for our section) they don't sign much. I also brought a couple Brewers cards (Greinke, Hart, Braun) but they had stopped signing and were warming up across the field. Oh well.
The game was pretty good, 10th inning win by the Brewers. The Astros bullpen pretty much imploded in the 9th and 10th and let the Brewers not only come back but go ahead and win.
It's always fun to go to a game regardless of who's playing or who wins. I know folks that say that watching something like the Stros' and Brewers wouldn't be worth it, that they'd rather save their money to watch two exciting teams go at it, but I couldn't be more opposite than that. Pretty much the only games I can afford to go to are the "cheap" ones, and I enjoy them entirely. Just going to the ballpark is part of the fun. Maybe I'm just old fashion, but not every game needs to be Red Sox/Yankees for me to enjoy watching it.
I had a blast, saw a good game, and got some ice cream in a helmet. What more could you ask for! lol.