Got my break loot from The Dimwit's June break yesterday. I actually, and I still can't believe this, traded away my second team in the break which ended up netting Matt Pederson a 1/1 bat knob. My thought was that I could take San Diego and get some pre-Red Sox Adrian Gonzalez cards. I did get a couple, but a bat knob would have been legendary. On the upside, I got two sick autos of my own. Let's take a look…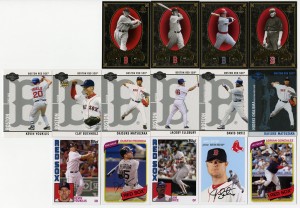 First up is the Legendary Cuts, the Co-Signers and the Archives (from a pre-break Blaster). Couple highlights here…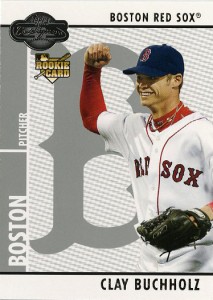 A very nice Buchholz RC I didn't previously have.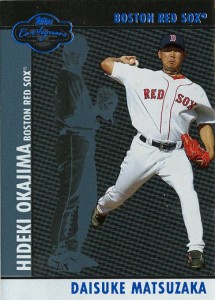 A sweet Daisuke/Okajima blue foil parallel numbered 101/250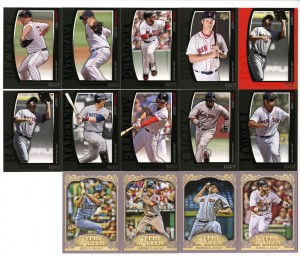 Next up, the Topps Unique and some Gypsy Queens (also pre-break blaster). I think the Melancon completed a third team set for me, so that's cool. Any Sox collector need a team set? A couple nice cards out of Unique as well…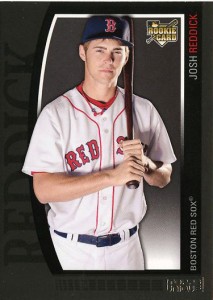 A Josh Reddick rookie, numbered out of 2699.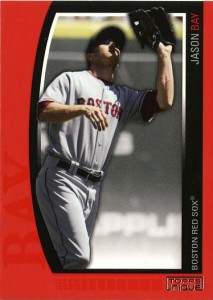 And a Jason Bay red parallel, numbered out of 1699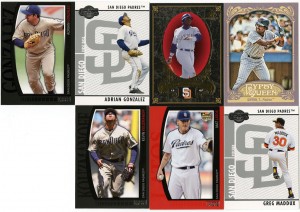 Here are the San Diego cards I trade a bat knob for, lol. I did get two Gonzalez cards as well as a Kouzmanoff, for my ever expanding Macedonian player collection that makes no sense. Also, Greg Maddox played for the Padres? Really? The two Tony Gwynn, the red (/1699) Matt Latos and the afore-mentioned Maddox are all tradeable.
Now for the good stuff.
So, after feeling pretty bummed out about missing out on the bat knob, I didn't have much hope in the rest of the boxes. I knew the odds of pulling anything out of Legendary Cuts was nill, and I was honestly just hoping for a couple nice base cards from Co-Signers. Then, in a act of box busting karma, the card gods smiled upon me as if to make up for missing out on the big hit,  and left me with these…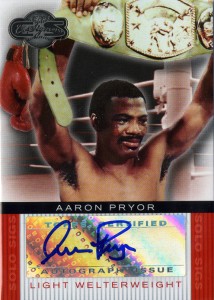 Aaron Pryor, I apologize for not knowing who you are, and looking you up on Wikipedia, but apparently you were quite the boxer. I'm not honestly sure what to do with that card. It's pretty awesome, but I'm not a boxing guy. I was just the lucky random recipient.
The real gem, however, is all Sox…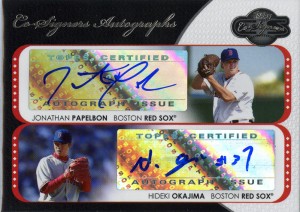 Nice!
Co-Signatures Auto, Papelbon and Okajima. It might not fetch the kind of money a bat knob would, but there's no way I'd sell it anyhow. That's going right on the top shelf of the personal collection. I'm pretty happy with this one.
As always, good break from Sam, lots of fun, lot's of good stuff. I know he's already planning next months break and I can't wait to see what he picks. Thanks buddy!