Has anyone else noticed the crazy stuff that's starting to sneak into the "value" box as Target and/or Walmart?
Maybe it's just my Target, because I've never heard of anyone else running across stuff like this. From the same store that continuously supplies me my '08/'09 Upper Deck X, last night I found a half dozen packs of 2007 Future Stars and another half dozen packs of SP Authentic. No joke.
I bought a bunch, and this was in pack #1…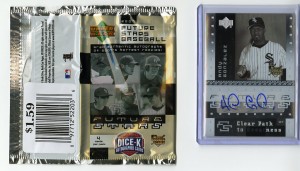 $1.59. Sold!