A little while back Kyle had a "guess the homeruns" contest over at Juuust a Bit Outside. The winner got a smattering of cards from his preferred team. I was the lucky prognosticator with a guess of 6 homeruns on Opening Day and he sent over a great package of cards.
I picked out a couple of my favorites since the whole thing wouldn't fit on the scanner, but there was a whole stack of Opening Day, Series 1, Heritage, all sorts of great stuff. Here's some of my favorites.
First up, a great bunch of Topps Finest, including a Wakefield. As someone looking to start a Wakefield collection, that's certainly a welcome sight.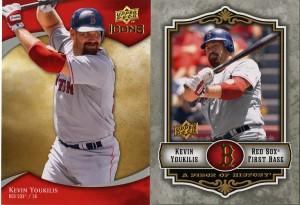 There were a number of set fillers in there, including these two Youks that I needed for my Icons and PoH sets respectively.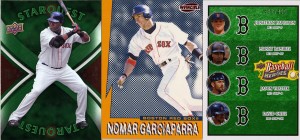 A nice Ortiz emerald StarQuest, a Nomar I didn't have in my PC yet and a great Baseball Heroes green parallel, #'d 432/499.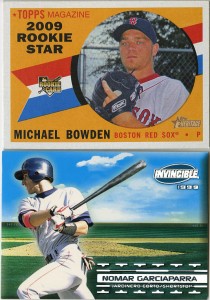 Another Nomar I was missing and a couple Heritage from 2009, of which I had none. A Bowden RC doesn't hurt either.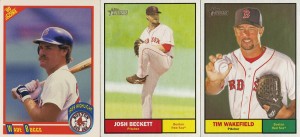 The aforementioned Heritage, including another Wakefield, and a terribly photographed (ummm, head room?) but awesome in that cheesy sort of way, '90 Score Wade Boggs.

There was, and I'll have to double check, an entire team set of Fleer Tradition, which I like a whole heck of a lot. There was even a checklist with a tiny little Nomar head in the corner, lol. As a set builder, getting a whole set is like Christmas.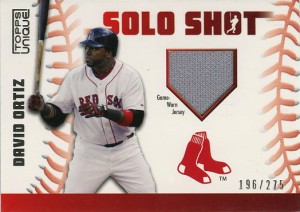 Last but not least, the cherry on top. A very sweet Topps Unique David Ortiz "Solo Shot", #'d 196/275. Fantastic 🙂
Thank you Kyle for the awesome contest and the fantastic stack of cards you sent over!