Although he only claims he's "cleaning off his desk", I'm beginning to think Derek has the world's largest workspace. I kid, I kid. Another very kind package arrived from my favorite Braves fan and I thought I'd share.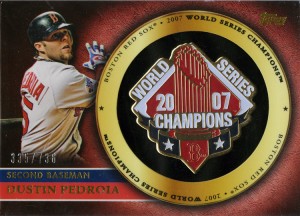 I hadn't tracked any of these down yet, and they are completely awesome. 2012 Pedroia WS Pin card, 335/736 (what a weird random number), commemorating the '07 World Series. I think there's just this one for '07 and there's an Ortiz for '04. Right? Then there's the Fisk and Rice "retired numbers" manupatch cards as well. I wonder if they're saving some other retired numbers for Series 2. I would assume so. Other wise, why not just do a #9 card right off the bat.
Either way, back to this one, this thing is awesome. Oh, and he also knocked a solid 30 cards off my Gypsy Queen list! Which, in case anyone else is wondering, can be found here. 124 and counting!
Derek, you are truly finding some awesome stuff. You can clean out your desk any time my friend, any time. 🙂