Ok, so I didn't make it 30 days without buying cards. I made it 26, I think that's pretty good, lol. Actually, I was planning on buying a blaster of 2012 Bowman anyway. My theory being that you really can't tell if you'll like a product based on a single pack, and a hobby box is way too expensive if you're unsure, so a blaster fits the "I wonder what it's like" scenario perfectly. I won't drag this out by recounting everything that was in it, but there was a good sampling, a couple inserts, a couple parallels, and enough variety for me to go "meh" and not really plan to buy another box. Team set for $2.99 on ebay, here we come. Also, I did pull aside a couple cards for a few of you out there who I know are team collectors. I'll stick them in with our next trades, whenever those happen to be.
In case you're looking for a scan… yeah, I got one for you. Here are the gold parallels, the Bowman's Best and the anything else interesting.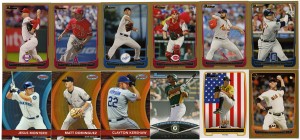 Oh, and because chrome letters don't scan worth a damn, left to right: Roy Halladay, Howie Kendrick, Ted Lilly, Devin Mesoraco, Jaime Garcia, and Victor Martinez.
(2nd Row) Jesus Montero, Matt Dominguez, Clayton Kershaw, Chris Carter (FF), Clay Holmes (Int. Parallel) and Madison Bumgarner.
…
..
Oh, yeah. I got this one too…