A couple days ago I got the cards from this months group break from Sam over at The Daily Dimwit. He was busting boxes of Topps Gallery, Fleer, UD Vintage, Topps HD and Bazooka. Pretty much for the Gallery and HD alone I had to be in on this break. It did not disappoint.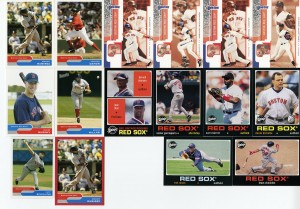 First up, the Bazooka, Fleer and Vintage. These Bazooka look a bit better than last months Bazooka from JABO break, just in terms of design. I managed to get a Manny Red Parallel and a Shilling mini out of that box as well, so that doesn't suck. The Fleer isn't half bad, and looking up the checklist there's only a couple more to chase down. The Vintage is probably the stronger of these three. It's a cool (though ripped off) retro design and according to the checklist there's just two more cards. They're both under $0.20 and if I remember I'll snag them from COMC at some point. Not too shabby.

Next up, the Topps Gallery, which I had a raging nerd-on for. I love canvas prints, I love the painted effect, and this set is just plain awesome from start to finish. I'm definitely going to be chasing the rest.

The Topps HD are simply bonkers. Some of the nicest, glossiest, thickest base cards I have ever seen in my life. They are absolutely awesome. I can't really get over them. The Williams alone is worth a bigger scan…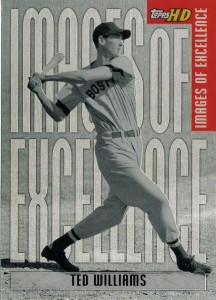 It's printed on at least 180pt stock with metallic inks (or at least on metallic paper), clear coated a dozen times, and sparkles like the freaking sun. This isn't going in a binder, this baby is going on the damn wall.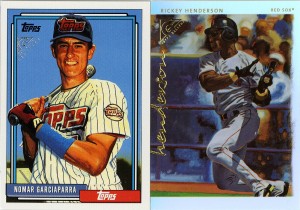 I did manage a couple quasi-hits and one big hit out of the break, which is always welcome. The Nomar is a painted over version of his 1992 Topps Traded Rookie Card, which I have. They painted over the "Team USA" on his hat and jersey and replaced it with "Topps", then printed it on canvas. I love the card, don't get me wrong, but there was no reason not to leave the Team USA logo. Topps has the USA license, so it's just kind of excessive. The other card is a base refractor for Rickey Henderson. Ultra thick and very nice. A good addition to the collection.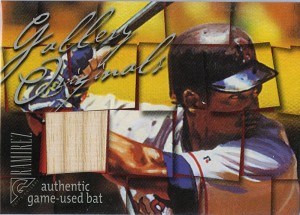 Last but not least, Topps Gallery just kept on giving. "Gallery Originals" Manny Ramirez bat relic. Always nice to have lumber in the collection, and a Topps Gallery card is definitely no exception. Another beautiful card from an awesome set.
Thanks for the break Sam, awesome stuff as always!