So, a last week as I'm talking about custom cards and how I've always wanted to do some (and actually print them), Chris from Varsity Trading Cards stops by and says "hi". We exchange a few emails and turns out that he's got a really awesome business going on. You probably know Chris from his card blog Crackin' Wax, but over at Varsity Trading Cards he's combining his love for photography and design and creating some really neat stuff for high school kids. Not only is that an awesome idea, and one I wish I had thought of, but he's producing some really nice cards.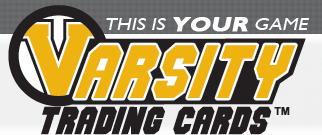 While professional and college athletes have long been the standard subjects of trading cards, we give High School student athletes the opportunity to be part of trading card history. Unlike yearbooks, class rings and Letterman's jackets, our cards are made to be shared with family, friends and fans. By using in-game photography and actual player statistics, our cards offer a unique view into a special moment in each student athlete's lives."
Now that's cool, and a completely awesome idea. I think Chris has hit the jackpot on this one. I know dozens of photographers who shoot for Little League and parents just eat up those 5x7s. I even know someone who brings a dye-sub printer to the field, with a generator, to crank out pictures on demand. There's certainly a healthy market for it, but once the kids grow up there seems to be nothing in between until they get to college (or get drafted). I think Chris is filling a great need. I know I would have wanted my own cards when I was a kid. Hell, I still want my own cards now, lol. I even talked to him about that. He might be making me a tiny run of memorabilia cards at some point. Now those are truly works of art. Anyway, if you have a kid in school, playing any kind of sport, check out the Varsity Trading Cards website, Chris has some great looking stuff.
I wonder if he has franchise opportunities, lol.