So, as I've been catching up with posts, a huge yellow envelope pile has been accumulating on my desk. Apparently, while I was sick, I was buying things off ebay via my phone. The exciting part is that I was all dopey on NyQuil and Sudafed at the time, so I had no idea what was in these until I started ripping them open. After looking back at my Paypal transactions, I think I did pretty good for being barely awake, lol.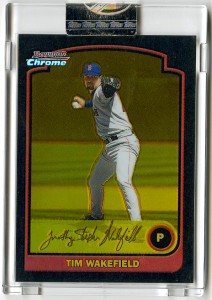 First up, a 2003 Bowman Chrome Tim Wakefield Gold Refractor. #'d out of 199, uncirculated. Good stuff. Loving these hard cases as of late. That reminds me, I've got to stock up on One-Touch Ultras for the rest of these, lol.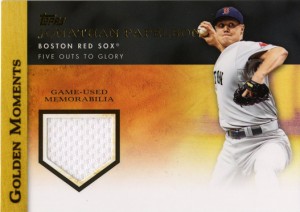 A quick $0.99 purchase. I figured it would probably be the last time there's a Sox jersey card from him, so what the heck. Can't go wrong for under a buck.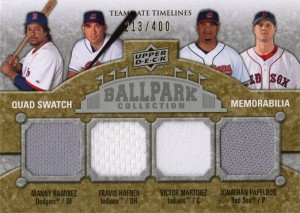 Another $0.99 card. Manny, Paps, Victor Martinez and… Travis Hafner? Ok, whatever floats your boat Upper Deck. I like quad swatches, it's just sometimes they can be really random.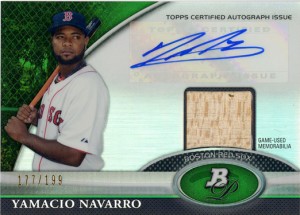 When I opened Bowman Platinum last year, I actually had two fair decent autographs, both for teams I didn't care about, but I was able to trade them away for cards more to my liking. I new this Navarro was in the checklist, but I never really bothered to go look for it. Just happened to get lucky on this one. What wasn't lucky is that I actually bid on TWO of them by mistake. This one is out of 199, the other is identical except it's blue instead of green and numbered out of 1199. I paid less than a buck for each of them, making this one the far better deal, but now I've got an extra, lol.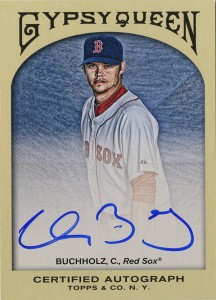 About friggin time. This has been on my watch list for forever. I've never seen it for less than $20, which while it's still a tiny sum for an awesome on-card auto, is still a bit outside my budget. Someone apparently didn't realize the book value and started this auction off for a penny. I paid just under $5 including shipping, which makes me pretty darn happy.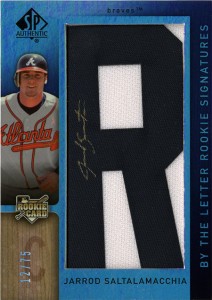 Last but not least, a Salty letter patch. Apparently I'm collecting letterman patches now. Great. My wallet just cried a little. This one was fairly cheap, I think it was $7 shipped. Still way under book value. Figured it would be good to have a Salty auto at some point, and finding one on a letter patch was just icing on the cake.
So, there we go. That catches me up with ebay purchases. Nothing too crazy, but a couple nice additions to the personal collection.