I'm beginning to love the sight of my mailbox's little yellow flag being up. Another day, another yellow padded envelope. This time with a purpose. Normally I use group breaks as an opportunity to see (and acquire) sets I don't have. 95% of the time, if the set list is small enough, I walk away with my goal – a Red Sox base set. I then chase any parallels or hits online or through trade. Sometimes I come up a couple cards short. That's where COMC and Sportlots come in. I swear I'm not getting paid to mention them in every damn post, it just so happens that the occasional $2 here and $5 there seem to be going to one of those sites on a regular basis these days. This week it's finishing off some sets. For $4.34 I managed to finish off 2006 UD Future Stars, 2007 SP Authentic and Rookie Edition, Topps 2012 and sneak in a couple sweet refractor goodies.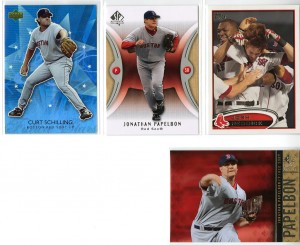 First, the cards I needed for my sets. With the exception of the 2012 Josh Reddick, all three of the others were the last card I needed from some of The Dimwit's various breaks. I'm kicking myself for missing out on this months, but thems the breaks (lol, that works on multiple levels). Now all I need for 2012 are a couple of insets.
All of those were less than $0.30. To make shipping even worth while I just had to add a couple more cards right? Of course I did…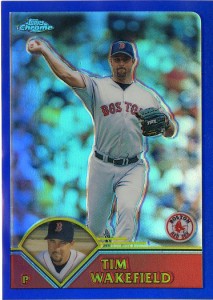 Ah Wake, I don't have a single other 2003 card, but I've got this one! Blue refractor, #'d 348/699.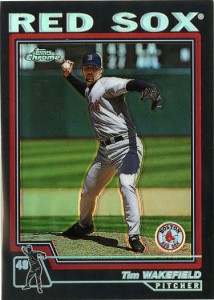 2004 Chrome, black refractor. This baby is going up on my display shelf, right next to the awesome black Luis Tiant auto that Hiflew sent me. Now, if only I could find a signed copy, that would be legendary.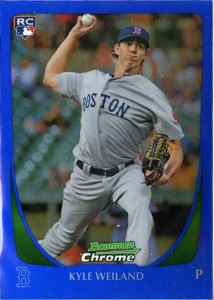 Last but not least, a strategic pick up. Kyle just got traded to the Astros in the off season. Knowing how much help they need in their rotation, I have no doubts that Kyle will be a regular starter. I'm hoping that I can take this to the ballpark and get it signed in person. Would be an awesome addition to the collection. This one is #'s 129/199.