I think I successfully destroyed the English language with that title.
I hadn't really mentioned it until the other day when I posted that Clemente patch, but I did in fact buy some 2012 Topps Series 1. I don't really have anything worth mentioning that hasn't been mentioned before. Photography good, inserts bad, surfboard meh. You get the idea. That doesn't mean that the set is devoid of anything worth talking about though. I did get a couple interesting cards as well as some stuff going directly into the tradebait bucket. I've already uploaded the photos of those and they're live in case you wanted to browse, but I thought I'd show a couple of the more interesting ones.
In total, since they came out, I've purchased 2 blasters, 2 jumbo pack boxes and a couple packs. I pulled aside all the gold sparkly cards, the inserts, the red borders (from Target) and the patches. Here's everything worth talking about…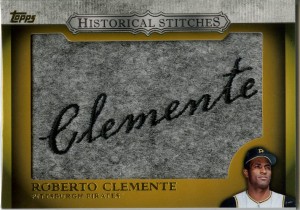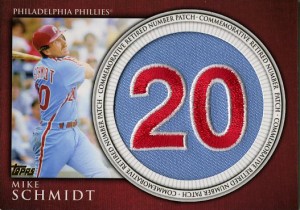 Those are my two patches from the blasters. I actually like the look of both of them. These patches are so much nicer than last year.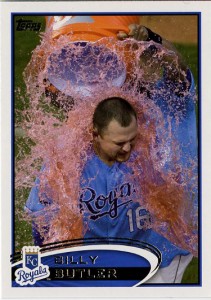 I actually got a short print as well. This came out of one of the jumbo boxes. Not bad. Now that the buzz has worn off a little, I think they're down to a much more reasonable $10-ish price range on ebay and COMC. This also continues my trend of having short prints no one wants. I have 4 or 5 of the historic players short prints from last year as well. Oh well.
A couple minis, Gardner, Kendrick and Ichiro (seriously, the guy does have a last name, right?). I sent the first couple I got to Derek over at Tomahawk Chopping, but these are more recent. If anyone's collecting the minis, let me know.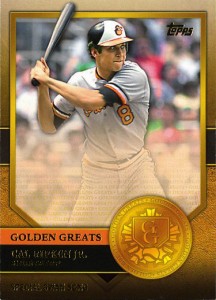 I thought this one was worth mentioning, and not because it's an insert. It's because of the back. Read this (carefully) and tell me what's wrong with this statement.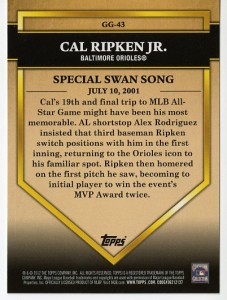 "AL Shortstop Alex Rodriguez insisted that third baseman Ripken switch positions with him in the first inning, returning to the Orioles icon to his familiar spot. Ripken then homered on the first pitch he saw, becoming to initial player to win the event's MVP award twice."
Oh my. Listen, I'm a terrible speller. I'll admit it. I can't live without a spell-checker. I'm also not mass producing a card for sale to the general public and I'm quite capable of proof reading. Something I guess Topps is too busy to do. Even if the mistakes were corrected, that's still a horrible explanation for the event. How about "Hitting a homer off the first pitch he saw, Ripken became the first player to win the event's MVP Award twice."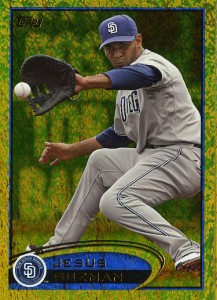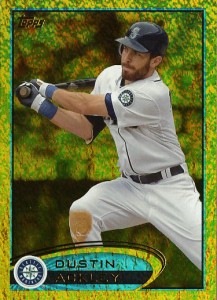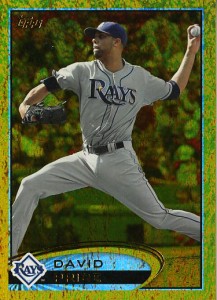 Next up, some shiny gold. Are we all still calling these liquorfractors? Perhaps wiskey instead of cognac this year? It's either that or I start calling them "pirate card booty", your call. lol.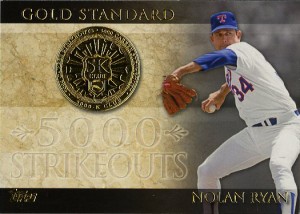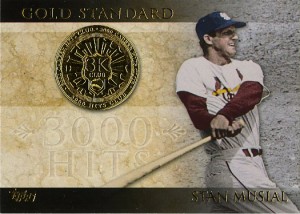 These ones I kinda like. The weird coin thingy kind of works for the 5k and 3k clubs, respectively.
Last but not least, there are some red borders…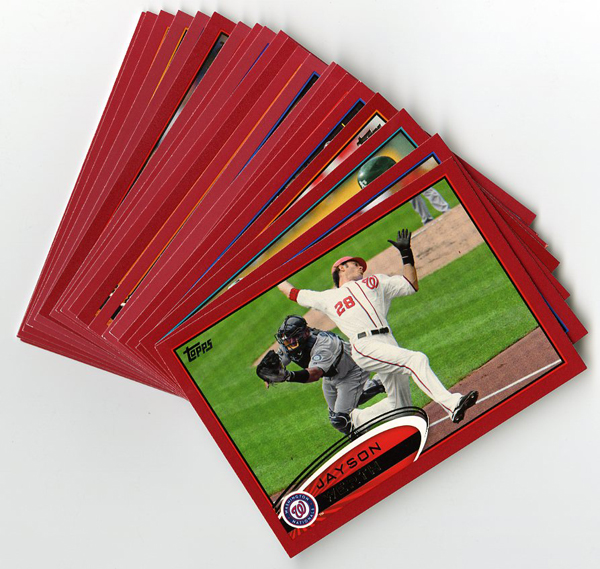 I post this, not to show the players, but to illustrate the printing issues I've mentioned before. LOOK at the different colors of "red" on those borders. Listen, Topps, I understand you've probably got a huge digital offset press, or multiple presses, running 24/7/365. That's still no excuse for bad color profiles. Ever single card, coming off every single print run, on every single machine, using the same inks on the same papers should be the SAME COLOR. There are no excuses for this in the printing industry. None. I'm being quite serious. Large scale printing software, and I've used a good deal of it, has "color profiles" that are tied to both the computer and the printer. They ensure consistency through out the process. Once set up correctly, there should be no deviation in the printing. An occasional spot check, pulling out a random card, comparing it to your "control" card, would prevent this from happening.
Sure, some times these things happen naturally. My wife runs into it all the time in her line of work. Usually it has to do with "dye lots". The raw materials used to create pigments change slightly and the actual ink/dye becomes a different color. It's only ever a problem if you're buying things across multiple YEARS. A dye from 1997 might be slightly different from a dye produce in 2012. Changes in the iron oxide, etc, etc. That's to be expected. If I'm Topps however, I'm buying all the ink I need for a print run (aka, the whole year). It should all be the same. That only leaves human error.
Anyway, enough printing talk. I'm sure it bores the rest of you to tears. Sorry. All those "red" borders, the rest of the golds, the inserts, etc, are now up in my tradebait gallery. There's about 60 new cards in total. Most of them aren't labeled yet, but they should be easy enough to identify until I have time to go through them.
Also, at a readers suggestion (and a good one I might add), I'm going to add a contact form somewhere around here. That way, if you don't have my email address, and you don't want to leave a comment on an old blog post, you still have some way of contacting me about a trade.
In the end, I'm pretty much done buying Series 1 retail. I have all but one card for my team set, and I just put in an order for it on SportLots for $0.15. If anyone needs anything for their team, let me know, I probably have at least 300 of the 330, plus the inserts of course.