We're getting closer to the hits. Can you feel it? Posts 4 and 5 are all about the personal collection. Well, technically post 6 is as well, but I'm saving the best for last.
One thing I found interesting, and still do, is that the concept of a "Rookie Card" has changed dramatically. I suppose part of it is due to the inclusion of parallels, refractors, numbered cards and the like. By including inherently rare sub-sets of cards, you make the normal rookie card less special and more ordinary. Bowman (via Topps) is the worst offender. People often talk about "collecting the rainbow" of a players Bowman card. There's a regular version, a refractor, a "super fractor", a blue, gold, orange, red and rare 1/1 canary yellow uberfractor (my word). The "regular card" isn't worth squat. But that 1/1 canary yellow card? Those are worth a couple hundred bucks. Why? Perceived value? Rarity over common sense? If you put on some gloss and a really low serial number, does that somehow make it instantly worth something. Even if the player is NEVER going to reach the majors?
I don't know what your personal opinion of a true (aka: the first and only card for a player) rookie card vs. the new "1 card, 20 versions" philosophy is, but I know I don't buy it. I understand the appeal, the allure of having a 1/1 or something really rare. I get it. But there's "perceived value" and "personal value". I know, for a fact, that the majority of the cards I'm about to show you are worth less than $1. I know that. But from a personal perspective, even though they're not super rare, they have a personal value to me, in my collection, as part of a hobby I enjoy.
It's as if we've gone from rarity based on limited existence (Babe Ruth rookie?), to over produced killing the value (Ken Griffey Jr. rookie?), and back to artificially produced rarity (Bryce Harper 1/1?). It seems like cheating. They're still producing thousands of cards, devaluing the regular ones, and at the same time artificially creating a top-tier scarcity by limiting production of certain cards (and/or colors) right off the bat. Personally, I'd be more interested in scarcity and rarity if it were naturally occurring. Enough pontificating however. Whatever your opinion is of rookie cards, old or new, these are what I found for my personal collection…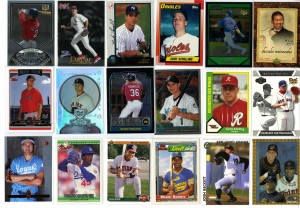 Yeah, I scanned the whole thing all at once. Sorry about that. Also, these are just the first ones off the stack. For example, that Dice-K RC in the corner, I needed that for my Artifacts set but it's one of about 6 of his RCs that I picked up that day. I'll show you those in the personal collection post.
There are quite a few nice ones in there, going top left to bottom right…
2007 Jacoby Ellsbury Bowman Sterling RC Refractor
1999 JD Drew Fleer Brilliant
1998 Bowman Mike Lowell RC
1990 Curt Schilling
2007 Jarrod Saltalamacchia Bowman Chrome RC
2007 Daisuke Matsuzaka MLB Artifacts RC
2006 Jon Papelbon Topps RC
2006 Jon Papelbon Bowman Sterling RC Refactor
2003 Kevin Youkilis Bowman Chrome "1st Card"
2000 Adrian Gonzalez Topps Chrome RC
1989 Curt Schilling Minor League card
2007 Daisuke Matsuzaka "CoSigners" RC
1994 Johnny Damon UD SP
1992 Pedro Martinez Donruss "The Rookies"
1991 Manny Ramirez UD
1992 Manny Ramirez Draft Picks
2000 Josh Beckett Minor League Card
1998 David Ortiz Topps Chrome "Prospects" (with Richie Sexton & Daryle Ward)
I think the only one I paid any real money for was the 1991 Manny, which I think was $2. Everything else on there was under a buck, most at $0.25. The only one that actually has any book value is the 2006 Papelbon Bowman Sterling, and I think (even if it's graded) it goes for under $30. Still, as a personal collection, to have some of the rookie cards from my favorite players, to me that's invaluable. Even if I paid less than 10 dollars for everything that was on that scan, it's worth way more than that on a personal level.