…and not the boring kind.
I realized I hadn't made a post in a couple days and for that I apologize. I had family in town and we were busying doing holiday things. I was going to do a big giant one about everything, but I'll split it into two, that way the baseball card folks can read this one, and everyone else here for the normal "daily dribble" can read the other one, lol.
So, I supposed it goes without saying that I asked for some baseball cards for Christmas. My wonderful wife loaded my stocking with pretty much the entire bargain bin from our local Target, so I had tons of random packs to open on Christmas. It was mostly 2007-2010 Upper Deck stuff, which is fine because it's actually what I'm into at the moment. I actually got a couple decent cards out of those $1.29 packs.
We'll start with a couple I pulled out of some Upper Deck X.
First up are a couple of really nice X-Potentials. Matt Holliday, Ryan Braun and Pedro Martinez. That's a mix of 2008 and 2009 as well.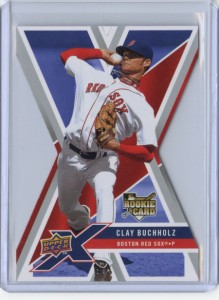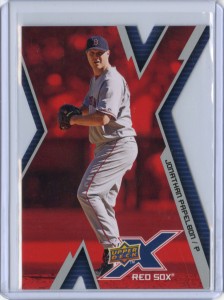 Next are a couple of the cooler dye-cuts from the same series. The Buchholz and the Longoria are both RCs and I actually have about 4 of the Buchholz already, but I'd never turn those down, they're just so cool. The Papelbon is the 2009 I believe, the others are 2008.
Next, probably the least interesting of the bunch, but still cool to me, a couple of common 2007 Upper Deck series 2 cards. A Michael Bourn RC and a Lincecum RC.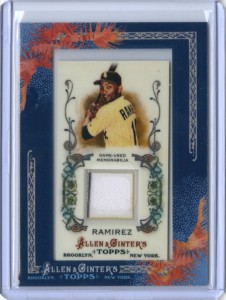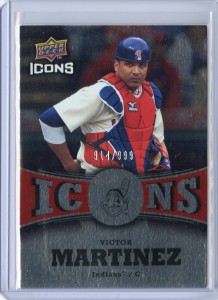 And the last of the stuff from my random bargain bin packs, I actually got a hit. Out of a random pack of A&G, I got an Alexei Ramirez jersey card, complete with dirty jersey and a pin-stripe. Not terrible, I've certainly pulled worse from A&G. Lastly, out of the only pack of Upper Deck Icons I've ever opened, a Victor Martinez that's some sort of foil parallel thingy. I don't know what that set called their inserts, so I'm sticking with "foil thingy". It's numbered 914/999.
My wife also found something that I've had on my wish list for quite a long time. She tracked down a box of 1992 Topps Traded for me, which was an awesome Christmas gift. I don't know if you know what's IN a box of 1992 Topps Traded, but it's jam packed with rookies from current and recently retired players. Most noteably, especially for me, these two guys.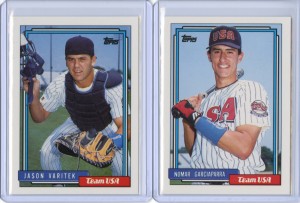 Yeah baby. Varitek and Nomar rookie cards. Awesome! I don't know what magical warehouse these were being stored in, but they're super smooth, sharp, have perfect corners and look to be in great condition to me, but I'm not a big "condition" guy. I say that now, but I'm considering bringing them with me to the Tristar show this month and getting them graded while I'm there. I never plan on selling them, they're definitely "personal collection" bound, but validation of their awesomeness wouldn't hurt. Besides these two there are a bunch of others like Giambi, Phil Nevin, even a 2nd year Curt Schilling when he was traded to the Phillies, in that box. Definitely worth a buy if you can find it.
Now for the good stuff. Over my vacation week last week, my good buddy Sam came into town and stopped by for a visit. We chatted, he delivered my cards from his December Group Break and, as is becoming tradition, we went to Walmart to buy something to open. I'll get to the cards from the break last, and end the post with a bang, so Wally World first. We were both looking for something cheap to open and originally we went hoping they'd have discount boxes of UD Masterpieces or something similar. They were completely out but they did have 2011 Topps Chrome on sale for $14.99 a blaster. We both bought a couple boxes just for the fun of it. Sam managed to finish off his Chrome set, and I got a couple Red Sox refractors and colored borders (not scanned) in addition to these…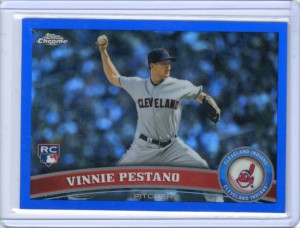 Two purple borders and a blue border! Believe it or not (well, I suppose it's very believable, knowing Topps), the Luebke purple and the Pestano blue were in the same pack. The Pestano is 63/99, which is very cool. I'll have to find someone who collects Tribe stuff and see if they'd be interested in trading.
Alright, I've stalled long enough. These are the hits from Sam's group break. Originally I had lamented about getting the Padres… then he pulled these…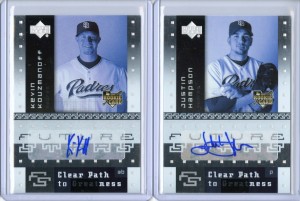 Justin Hampson and Kevin Kouzmanoff auto RC "Clear Path to Greatness" cards. I'm not sure if Hampson's careers is really taking off on his "path to greatness", but Kouzmanoff isn't too shabby. Plus, just to get two hits out of a break is fantastic. But that's not all. Those were 2007 "Future Stars", this is what he pulled out of the 2006 box…
Oh my heavens. Is that a Jon Lester RC autograph? Why yes, yes it is. Not only that, but it's friggin CLEAR. The card is clear. You have no idea how awesome it looks. Plus, on top of that, he pulled a Matsuzaka "Team Japan" card. That alone would have been awesome, but the Lester is out of this world.
Last but not least, Sam also delivered the Team USA auto I got randomized way back in a group break in September (? – I think). He pulled a 5 card Team USA set redemption card and this was the one that got randomized to me.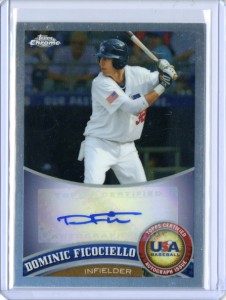 Dom here is supposed to be quite the infielder for Arkansas at the moment and is projected to go fairly high in the draft in next year. I'll hang on to this one and see where he ends up. Rumor was that the Tigers tried to draft him last year an he opted to stay in college for another season. I'm not sure if that means they get first dibs for him, or if he goes through the draft process all over again.
Anyway, those 4 autograph cards pretty much double my current collection. I think I actually have as many non-Red Sox autos as I do for my personal Sox collection. Oh well, more trade bait. Everything non-Sox related is probably up for trade, except the fore mentioned Ficociello, and maybe the Longoria RC (but that could probably go if the right offer was made).
I hope everyone had a great Christmas and New Years. Looking forward to some more awesome cardboard in 2012.
Matt out.