So, since I've finished off most of my sets for 2011, and all I have left are things that I've already bought into group breaks for (in hopes of finishing), the only things left to buy until next year are "hits" off of eBay. I'm not a huge eBay fan, or at least I wasn't until I started buying card, but I can work a system whenever I find the in's and out's. I'm watching lots of $0.99 auctions and only jump on things at the very last second.
I also set my max bid an extra $0.25 higher than the next auto bid increase. So, if the auction is going by $0.50 increments, I've bid $0.99, the next bid would be $1.49. I up my max bid to $1.50. That usually solves the "last second snipe" problem. Most people don't use bid software unless they're really hardcore. Most people hover over the "bid now" button until the last second. If they simply hit the button, they're still below my max, and have to click "raise bid" and then bid again, which is usually just enough time for the auction to close. With a firm limit set on myself of "less than coffee", I've set out to see exactly what I can score on eBay for next to nothing. I got 4 nice ones this way that I wanted to show off, as well as a couple pulled from packs that were just for fun. Oh, and don't mind the tape/scratches on the scans, those are from the top-loaders. Why people feel the need to use scotch tape when it will never ever come off is beyond me. If I ever have to tape anything, I have a roll of super thin masking tape, used for doing pin-stripes on cars (found it at the auto parts store) that works perfectly. No mess.
Anyway, you're not here to learn about tape, you want to see some cards, right? Right!
First up is a Julio Teheran rookie auto that I pulled out of a blaster of 2011 Topps Update. This kid should be a really great addition to the Braves in the next year or two. He led their minor league affiliate in strikeouts all year.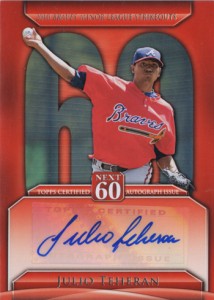 Next up is something I actually pulled a little while ago, I just never got around to scanning it. I found a couple blasters of 2008 Baseball Heroes at Walmart and couldn't resist. This is a Reggie Jackson, blue (sp) parallel numbered 158/199. The Baseball Heroes set has so many crazy parallels that it's hard to keep track, but "blue" is one of the harder to find ones. That set is so huge it would take someone years to track it all down. I can't even find all the Sox base cards. I'll be a project set that I'll be working on for a while.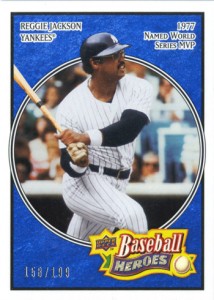 Ah, now we're finally getting to the Red Sox cards. The next three I picked up for under $0.99 a piece. With $2-3 shipping, each card cost less than a cup of fancy coffee. I only got one each week for the past couple weeks, and drank the terrible office coffee instead. Oh the price of staying within a budget, lol.
First up is an Ortiz jersey card from 2005 Upper Deck SP Authentic. For some weird reason, I'm becoming obsessed with early 2000's Upper Deck, and SP Authentic in particular. Numbered 113/199. Also, the weird tan stuff around the jersey is actually the design of the card, and not weird factory glue (like my OPC hit last month).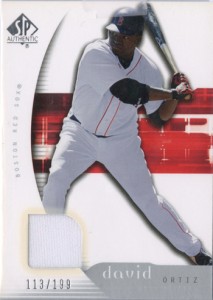 Next is a relic from one of my favorite sets. 2009 Goodwin Champions. Right up there with UD Masterpieces, I just really love the design of these cards. I'm a sucker for historic and retro looking cards. This one is a really nice Matsuzaka jersey card. Just love that set.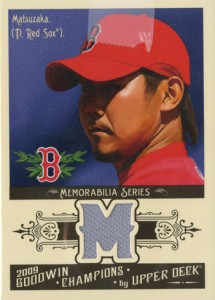 Next is a more recent card. A 2011 Topps Update Adrian Gonzalez All-Star jersey relic. I just liked the maroon color of the jersey, and I didn't get any of these when I was opening packs, and for $0.99 why the heck not?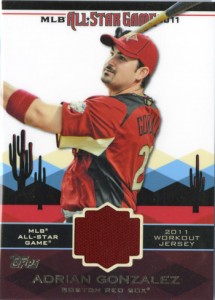 Last but very certainly not least is a testament to being in the right place at the right time, digitally speaking. While it was above my $0.99 rule, for only a couple dollars it was impossible to pass up. It was still cheaper than lunch, so I think it counts. 🙂
Numbered 24/99, a Daniel Bard relic autograph from 2011 Triple Threads. That entire set is so crazy expensive that I could never afford it, but when something like this sneaks onto eBay for just a couple dollars, that's a win-win for me. Such an awesome card!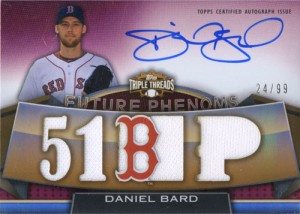 Also, not pictured are the two cards I have on the way. One is a 2007 UD Masterpiece Jason Varitek jersey and the other is, believe it or not, another Bard auto. I scored an 18/25 Topps Tier 1 auto for next to nothing. I'll scan that one as soon as it gets here. It's nice to have two really epic autos from someone who's more than likely going to be Boston's premiere closer for the foreseeable future.
I like autographs… they're fun! 🙂
Oh, and the Teheran and the Jackson as up for trade if anyone is interested.