So, it's been a couple weeks since I talked about baseball cards and I had a few spare minutes this weekend while the kiddo was taking a nap, so I busted out the scanner and gathered up what I had purchased over the past couple weeks.
For starters, the Topps 2011 update is out, which means I'm trying to finish off my Red Sox set once and for all. I've got about 4 cards to go. I need a #9 Iglesias, #126 Gonzalez (HR Derby), #166 Ortiz (a checklist) and #296 Bobby Jenks. If you have any of those, let me know and maybe we can work something out.
Anyways, since the update apparently doesn't come in blaster form, only "mini blasters" and packs, I grabbed a couple mini boxes at the local Wallyworld and cracked them open. These first couple scans are the inserts from those boxes.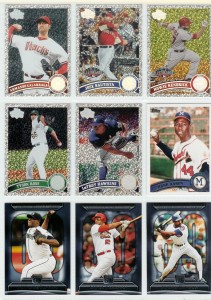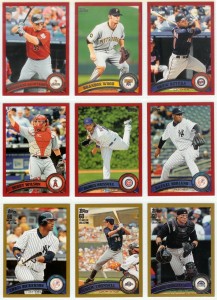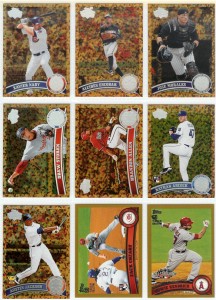 The only things worth mentioning in there are probably the Hank Aaron short print, the Quintero red border (for Sam) and the couple gold borders numbered out of 2011.
Next up is some stuff from a Lineage blaster I picked up.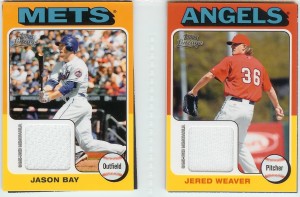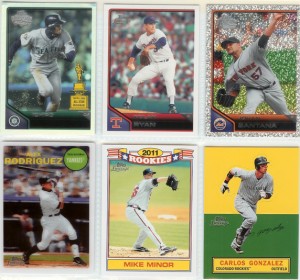 Two nice relics, a Jason Bay and a Jered Weaver, both minis. There was also an ARod 3D card, a couple foil/refractors and a CarGo standup, which is kinda cool. I also got two silk cards, a Tim Lincecum and a Jackie Robinson.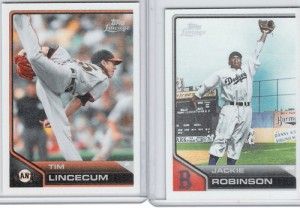 Now, on to the good stuff. First up is a triple relic from 2009 O-Pee-Chee.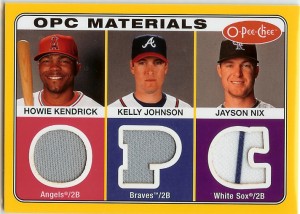 It's a Howie Kendrick, Kelly Johnson and Jayson Nix, with Nix wearing a Rockies hat but the card reading White Sox. I'm not sure if the White Sox have any blue pin-stripes, so I'm guessing it's a Rockies jersey as well. Either way, cool card. When I pulled it it had a lot of glue from the factory around the edges of the cutouts, but I was able to gently get most of it off with just my finger.
Next up are my favorites, a Kevin Youkilis jersey (numbered 03/27) and an awesome Pedroia triple jersey (19/27) both from this years Topps Triple Threads. Both were less than $2 on eBay. I love jumping in on completely unclaimed auctions. No one wants these cards at $0.99, really? I'll take'em!!! I don't really care if the book value is nill, they're still pretty cool to me. In case you're wondering, they look really nice out of their top-loaders and penny sleeves, so any weird streaks or scratches on the scans are from their cases, not the cards themselves.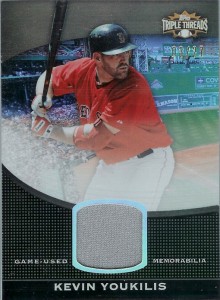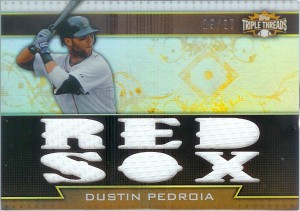 Not a bad month so far.
Sam's got a group break starting today that I bought into, so hopefully I should have some nice stuff from that to show off next time.
Matt out.