Player Collection: Brock Holt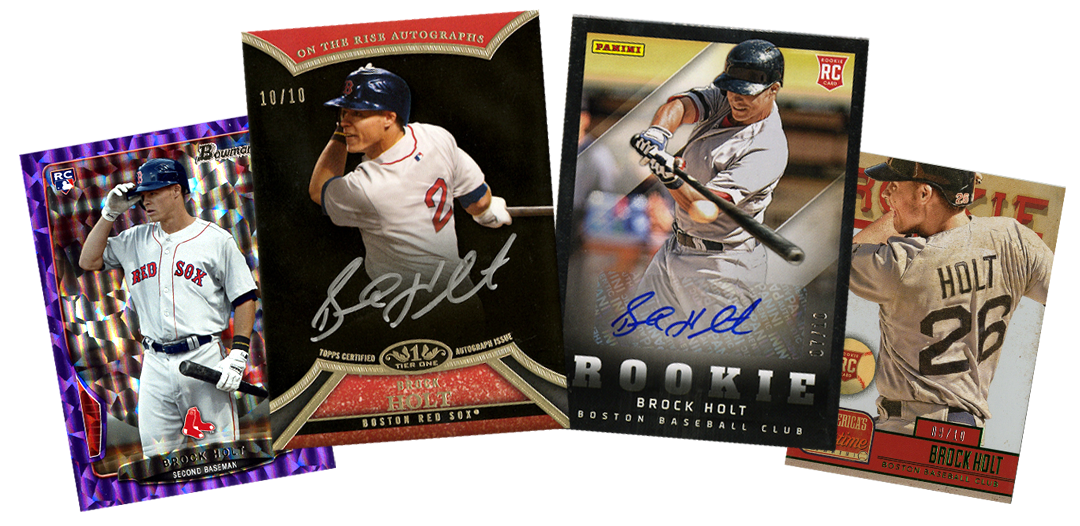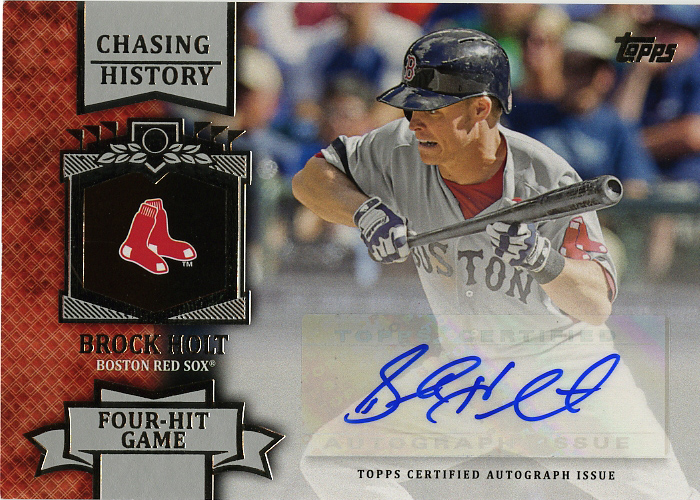 Why Brock Holt?
Quite honestly, that's the best baseball name I've ever heard. I can't see a "Brock Holt" doing anything other than playing a professional sport. Either that or being a kick-ass space Marine in some sci-fi movie. With a name that badass, you have few options.
He's a local boy, originally from Fort Worth, went to school in Houston. The more I read about Brock, the more I like him as a player too.
.348 average with the Owls. Team leader in total runs scored and stolen bases. Named both to the All-NCAA Regional Team and the All-Silver Glove Trophy Series team. Drafted in the 9th round by the Pirates and was hitting .432 in the minors before getting the call in Pittsburgh. Originally traded to the Red Sox in the Joel Hanrahan deal, and currently holding down 3rd base while people are on the DL.
Mainly, the reason I like him as a player is that he reminds me a lot of Pedroia. Scrappy, hard working, never quitting. It's easy to root for a guy like that.
Trade Me!
Have any Brock Holt cards? I'd love to trade for ones that are missing from my collection. Check out my wants list and let me know!
There are currently 166 Brock Holt cards total. 57 of them are 1/1's or too rare to chase.
Current Collection Needs:
2009 Bowman Chrome Draft Prospects Blue Refractors #BDPP25 Brock Holt SER 99
2009 Bowman Chrome Draft Prospects Gold Refractors #BDPP25 Brock Holt SER 50
2009 Bowman Chrome Draft Prospects Orange Refractors #BDPP25 Brock Holt SER 25
2009 Bowman Chrome Draft Prospects Purple Refractors #BDPP25 Brock Holt
2009 Bowman Chrome Draft Prospects Red Refractors #BDPP25 Brock Holt SER 5
2009 Bowman Chrome Draft Prospects Refractors #BDPP25 Brock Holt
2009 Bowman Chrome Draft Prospects X-Fractors #BDPP25 Brock Holt SER 199
2009 Bowman Draft Prospects Blue #BDPP25 Brock Holt SER 399
2009 Bowman Draft Prospects Gold #BDPP25 Brock Holt
2009 Donruss Elite Extra Edition #49 Brock Holt
2009 Donruss Elite Extra Edition Aspirations #49 Brock Holt SER 200
2009 Donruss Elite Extra Edition Collegiate Patches Autographs #42 Brock Holt/125 AU SER 125
2009 Donruss Elite Extra Edition Signature Status #49 Brock Holt AU SER 50
2009 Donruss Elite Extra Edition Signature Turn of the Century #49 Brock Holt AU/619
2009 Donruss Elite Extra Edition Status #49 Brock Holt SER 100
2009 Donruss Elite Extra Edition Status Gold #49 Brock Holt SER 50
2010 Topps Pro Debut Blue #126 Brock Holt SER 259
2011 Bowman Chrome Prospect Autographs Gold Refractors #BCP212 Brock Holt AU SER 50
2011 Bowman Chrome Prospect Autographs Orange Refractors #BCP212 Brock Holt AU SER 25
2011 Bowman Chrome Prospect Autographs Refractors #BCP212 Brock Holt AU SER 500
2011 Bowman Chrome Prospects #BCP201 Brock Holt
2011 Bowman Chrome Prospects Green X-Fractors #BCP201 Brock Holt
2011 Bowman Chrome Prospects Orange Refractors #BCP201 Brock Holt SER 25
2011 Bowman Chrome Prospects Purple Refractors #BCP201 Brock Holt SER 799
2011 Bowman Chrome Prospects Refractors #BCP201 Brock Holt SER 500
2013 Panini America's Pastime Gold #188 Brock Holt SER 25
2013 Panini Prizm Autographs Prizms #RBH Brock Holt AU SER 25
2013 Panini Prizm Prizms Blue #262 Brock Holt
2013 Panini Prizm Prizms Blue Pulsar #262 Brock Holt
2013 Panini Prizm Prizms Red #262 Brock Holt
2013 Pinnacle Artists Proof #183 Brock Holt
2013 Pinnacle Artists Proof Blue #183 Brock Holt
2013 Pinnacle Museum Collection #183 Brock Holt
2013 Pinnacle Rookie Autographs Artists Proof #BH Brock Holt AU SER 25
2013 Select Prizm Gold #223 Brock Holt AU SER 25
2013 Topps Black #171 Brock Holt SER 62
2013 Topps Camo #171 Brock Holt SER 99
2013 Topps Toys R Us Purple Border #171 Brock Holt
2013 Topps Wal Mart Blue Border #171 Brock Holt
2013 Topps Emerald #171 Brock Holt
2013 Topps Factory Set Orange #171 Brock Holt SER 230
2013 Topps Gold #171 Brock Holt SER 2013
2013 Topps Sapphire #171 Brock Holt SER 25
2013 Topps Chasing History Autographs Gold #BH Brock Holt S2 AU SER 10
2013 Topps Chasing History Autographs Gold #BH Brock Holt UPD AU SER 10
2013 Topps Heritage Chrome Black Refractors #HC100 Brock Holt/Kyle McPherson SER 64
2013 Topps Heritage Chrome Gold Refractors #HC100 Brock Holt/Kyle McPherson SER 5
2013 Topps Heritage Venezuelan #74 Brock Holt/Kyle McPherson
2013 Topps Tier One On the Rise Autographs Copper Rose Ink #BH1 Brock Holt AU SER 25
2013 Topps Tier One On the Rise Autographs Copper Rose Ink #BH2 Brock Holt AU SER 25