To be honest, I had the remaining stack of cards from the card show (back in freakin' February) sitting on my desk to be scanned until I moved them in an ill-fated attempt to "clean". Never again. Organized chaos is my go-to from now on. Not that anyone was waiting with baited breath to see what pitiful collection of Red Sox and Astros cards I picked up two months ago, but I scanned them anyway. Organized, no. Completionist, yes.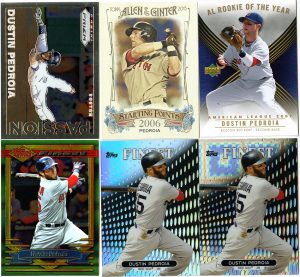 Figured I'd start with Mr. Pedroia since that was the topic of my last post. I'm not quite sure why I picked up the Ginter insert other than it was probably in a dime box. The Prism and Finest inserts were on my set needs lists, and the Finest refractors were, well, along for the ride. The AL Rookie card isn't new to the collection, but thematically goes quite nicely with what I posted yesterday. It's one of those few 2006-2007 cards for Pedroia. I can't really wrap my head around a guy being the "Rookie of the Year" and having 4 cards total at that point. Go figure.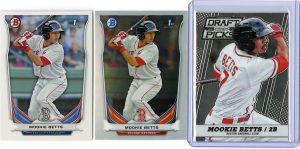 Next up, some cards for Mookie Betts. All cards I had, but at this point I'm just buying whatever I find for Mookie and crossing my fingers that he's going to be a ridiculous superstar. Can't hurt to have a few dozen of these, right?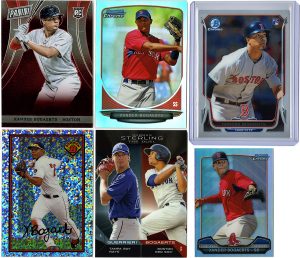 Xander Bogaerts, in both insert and base card form. The Sterling "duels" insert had been tough to find, it was on my list. The red card in the top corner was also either a Father's Day or a Black Friday exclusive from Panini, I can't remember which. I had a "thick" version numbered /99, but this was the base version. The others are all for the player collection.
So, that was it for non-hits. Everything else from this point on has an autograph on it. I came across this dealer selling hand collected autos. I had actually seen him at the last show, as a buyer/collector, and talked to him. He had been pulling random cards from dime boxes and talking to his buddy about where to sit outside the stadium to get autographs as the players showed up. I asked him for tips on getting some of my own. Seeing him as a dealer this time, I felt reasonably sure he wasn't signing these himself, so I decided to take a look.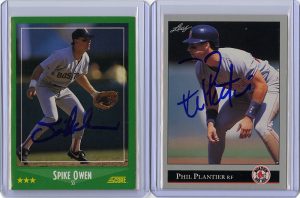 He had these huge boxes full of what I can only assume were TTMs or hand collected at games and events. As I started looking through, I found these two blasts from the past. Again, I didn't feel like someone would go through the trouble of forging an autograph for Spike Owen on an 1989 Score card, so I bought quite a few from him in the end. Owen and Plantier autographs are things I had never gotten as a kid, and it was like buying a tiny slice of childhood memories. They're never going to be worth anything, but having actually seen these guys play makes them special to me. Nobody else in Houston was buying 1980's Red Sox autos, so it meant to be.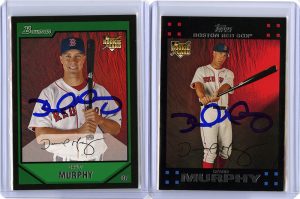 The card show was mid February and not a week later the Red Sox signed David Murphy to a minor league contract and brought him back to where his career began. Sadly he was released in March, but at the time I thought I had picked up two fun pieces of history.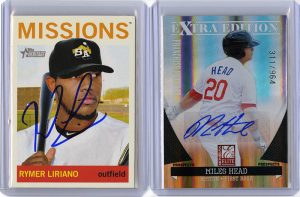 I have no idea. Not sure why I bought either of these. Head is obviously a Red Sox card, but he was sent to Oakland way back with the Josh Reddick deal. I can't for the life of me remember why I bought the Liriano. I think it was because I had picked out 10 cards and the 11th was free, or something like that.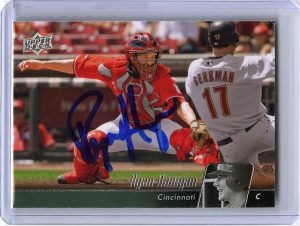 Ryan Hanigan, the only card from a current member of the team, although as I write this the Red Sox have recalled Vasquez from his rehab assignment, so I can't imagine the team carrying three catchers. A trade might be brewing involving Hanigan (and hopefully some dead weight like Sandoval). You'll also notice a guest appearance on that card from Houston's own Lance Berkman.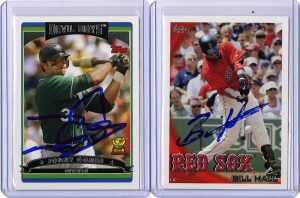 Jonny Gomes and Bill Hall. Hall played for the Sox in 2010 and the Astros in 2011, which is probably when this auto was obtained. The Gomes card I just had to have because that guy is crazy or crazy awesome, I can't decide which. He definitely lead the charge in terms of clubhouse cohesiveness in 2013, and no one can forget those shorts.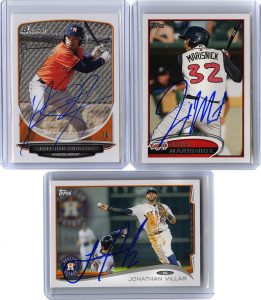 Last but not least, a trio of Astros to finish off the loot. Villar has obviously been supplanted by Correa, but Singleton and Marisnick can still contribute. I'm only a passive Astros fan, I wish them the best of luck, but even I can admit that it's considerably more fun watching them play these days than it was a couple years ago. I picked these up mostly for Sam, but I'm sure he already has similar (or better) for each of those guys.