Finally, we come to the end of the rainbow. This post may be exceedingly long, mostly due to the fact that I wanted to post most of these individually. Everything here will be part of my personal collection. These are the reasons I went to the card show in the first place. Just as a reminder, everything up to this point, including these, was under $100. I found rookies I needed, early player cards, relics, autos, even a couple really nice graded cards. Also included are some player collections, some of which aren't really that epic, but I wanted to include them anyway. Let's start with those and work our way up. Enjoy!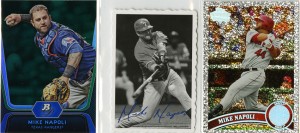 First up, some pre-Sox Napoli. I really liked the black and white "deckled edge" cards from Archives, even if I wasn't crazy about Archives as a whole.
Random DiceK goodies. There's a National Card Convention VIP exclusive card, a throwback '89 UD rookie from Timelines, a gold border parallel and the black "Moments & Milestones" at the bottom is actually numbered 3/25. Not too bad.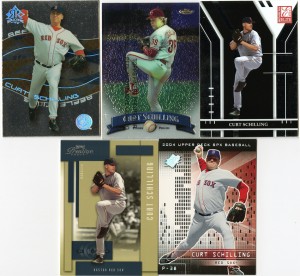 Some random Curt Schilling cards. Pretty much covers the gamut of higher-end stuff. Finest, SPX, Prestige, etc.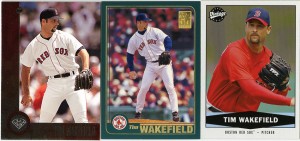 A couple simple Wakefield cards. Nothing spectacular, but the guy has surprisingly little cardboard love for the amount of time he played. Needed all of these for the PC.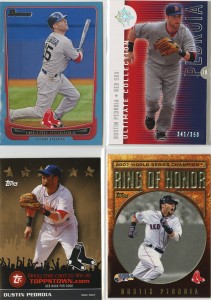 A couple Pedroia cards. Blue Bowman (/299), an UD Ultimate /350, as well as a couple inserts I never bothered picking up before.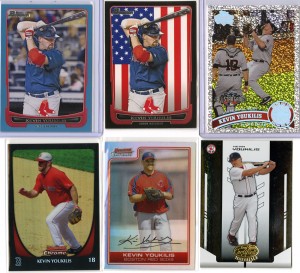 YOOUK! Multiple refractors, sparkles and a blue Bowman again (found so many of those). I really dig the black border/flag parallel card.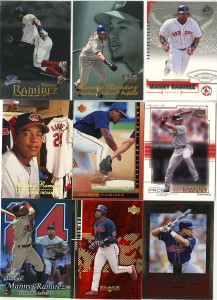 Next, a nice cross section of early Manny cards. The one in the locker room is especially nice (and early career). All are perfect additions to the PC.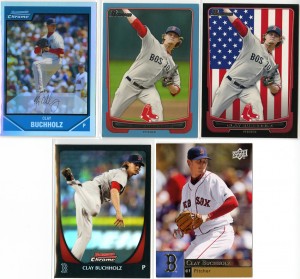 Clay Buchholz. Again with the flag card, which is awesome, and yes, another blue Bowman. A couple more refractors and a 2009 UD I was simply missing from a set. These are the "boring" Buchholz cards, there are nicer ones coming up.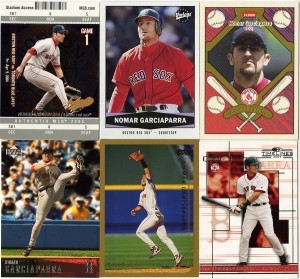 Nomar. So much Nomar. Including…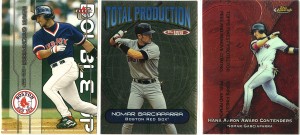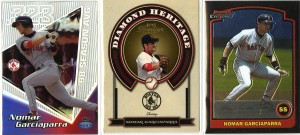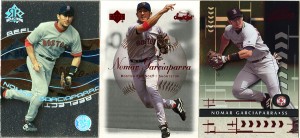 So many additions to the PC. I love finding cards that I didn't even know existed.
That's the end of the "normal" player collection additions, now things really start to take off…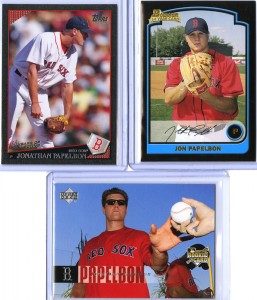 Papelbon trio including 2 rookies and a /58 black sparkle parallel.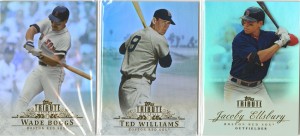 Multiple Topps Tribute base. I never buy Tribute, so finding base cards in the $0.25 box is always a good thing.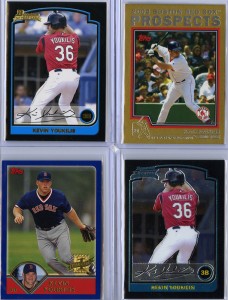 One copy of each of the popular Kevin Youkilis rookie card. I had two of these, one of which is graded, but these will go right at the front of the player collection binder. Also, the 2004 Prospects card being the gold version is a nice bonus.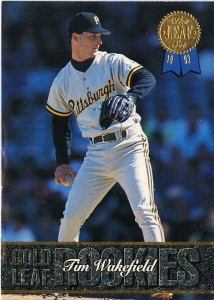 1993 Leaf Tim Wakefield rookie. Well, at least his Leaf rookie. Some would argue (myself included) that his true rookie is the 1992 Fleer Update, but this Leaf along with his 1992 Donruss are at least my #2 and #3. A very worth addition to the collection.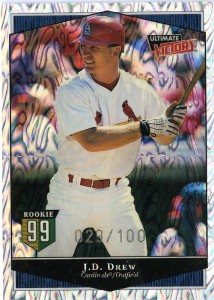 1999 Victory "Wave-Refractor-Thingy" rookie for J.D. Drew. It was really the 029/100 that caught my eye, otherwise I'd probably be done with cards for the brothers Drew.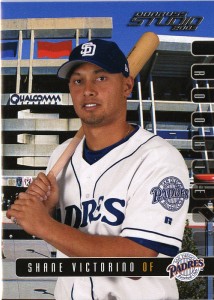 2003 Donruss Studio Shane Victorino rookie. There are a couple other 2003 rookies, but I actually like this one better than the more common Bowman Chrome and Topps Traded ones.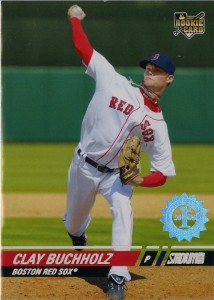 Clay Buchholz rookie. I had another copy of this 2008 Stadium Club card, but it didn't have the "1st day release" stamp on it. Now I have both!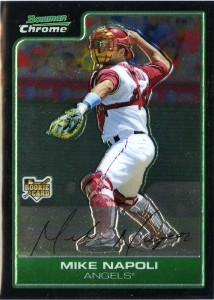 Mike Napoli Bowman Chrome rookie. Again, had a copy, graded, now I have one for the binder.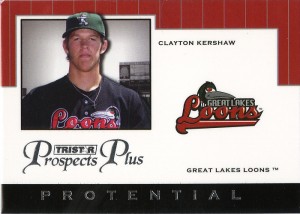 A non-Sox player? Yeah. Saw this "Prospects Plus" card for a minor league playing Clayton Kershaw in the wrong box and the seller didn't care. Not worth as much as something like his 2006 BC Draft card, but it's close enough for me. Would make a good card for an auto if I ever see the Dodgers in person as well.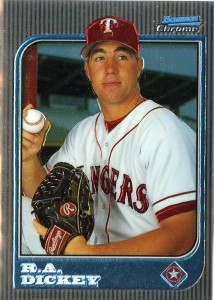 Another non-Sox player? Yeah, but he's a knuckleballer, and I collect knuckleballers. Bowman Chrome rookie for R.A. Dickey. Personal collection bound.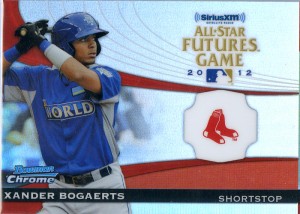 Bogaerts Bowman Chrome "Futures Game" insert card. I actually didn't have this one, and the seller I bought all the other Bowmans from had it for about $1. Sold!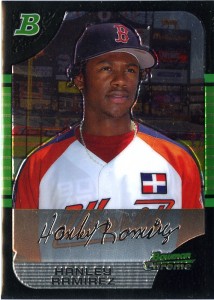 Bowman Chrome Hanley Ramirez. I think I already have this one. Just felt like picking up another since my first was in kinda rough shape. This would would grade well if I ever wanted to send it in.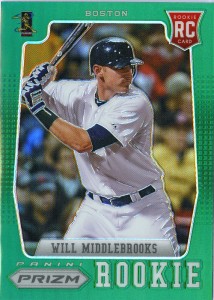 I've mentioned before how tough the green parallels are to find for PRIZM, and finding a Middlebrooks RC in green was a pleasant surprise.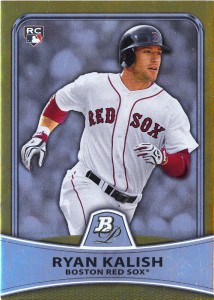 Ryan Kalish Gold Bowman Platinum parallel, /539 (?). This is exactly the kind of stuff I go to find. Buying this off ebay or COMC would cost me $5. At the card show, it's $0.25.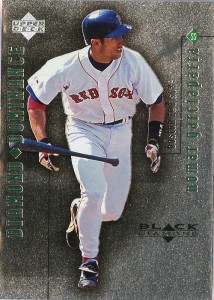 Nomar, Black Diamond parallel. It didn't really scan very well, but it's a fairly low numbered parallel, out of a couple hundred I believe, which I consider "low" for cards from the late 90's.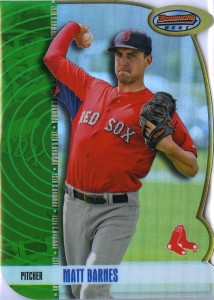 2012 Bowman Draft Bowman's Best Die Cut Refractors Matt Barnes, /99. Phew, that was a mouthful. When the seller with all the Bowman stuff offered me the massive pile I had built up, including this, for $10, I didn't even try and haggle. This baby is /99 and worth $10-12 all on it's own.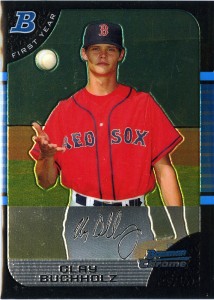 2005 Clay Buchholz Bowman "First Year"…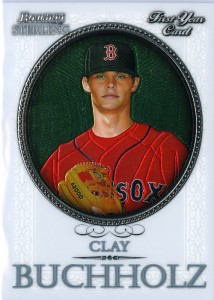 2005 Bowman Sterling…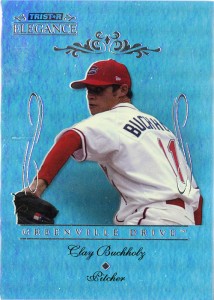 …and 2006 Tristar Elegance. These cap off the rookie portion of my massive (and nearly exhaustive) Clay Buchholz super collection. The Sterling was always too expensive and the other two I just never came across in the wild, so all three are great pick ups for me.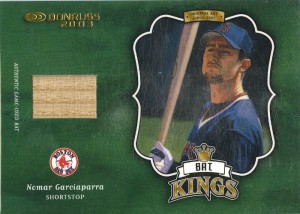 2003 Donruss Studio "Bat Kings" Nomar bat relic. I think I've mentioned a couple times how I prefer bat relics over plain grey swatches. This fits the bill nicely.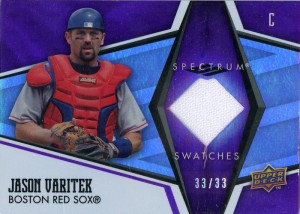 Jason Varitek Spectrum Swatches. It unfortunately has a pretty noticeable crease across the word "swatches", but it was the number that made me buy it anyway. 33, jersey number, and not only that, but 33/33. Ebay 1/1! lol.
Pedroia jersey relic, can never have too many of those.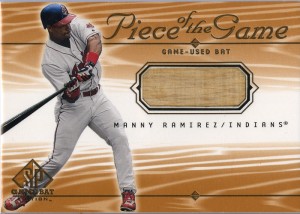 Manny bat relic. Early one at that. SP "Game Bat" edition, whatever that was.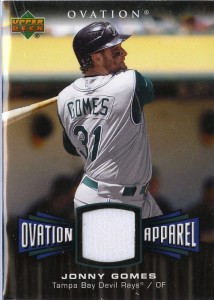 UD Ovation Jonny Gomes relic. Just kinda liked it.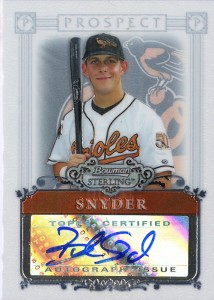 This was kind of a hedged bet, so to speak. The Sox signed Snyder to a minor league deal with a spring training invite. So, we'll just have to see how good of a pick up this was once spring training is over.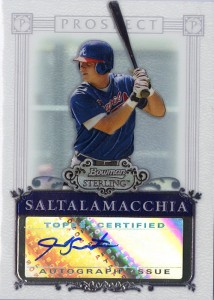 Yeah. yeah. I know Salty is gone, but the auto was cheap, and I didn't have it. Plus I'm a sucker for old Bowman Sterling stuff.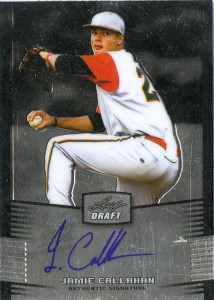 Leaf Draft Jamie Callahan auto. Definitely a "early prospecting" pickup. 50/50 shot Callahan makes it out of Single-A.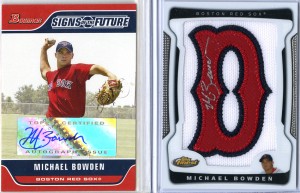 Michael Bowden Bowman auto and auto/letterpatch. Nice combo from a grumpy seller who actually wanted $30 for the letter patch. It's worth $5. I talked him down to $10 for the pair, and even that was a bit overpaying.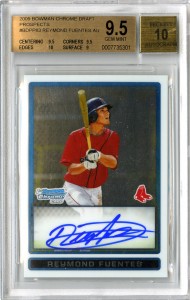 BGS 9.5/10 Reymond Fuentes. This, and the other two graded cards were all in a 85% off box, and marked at $5. I asked if the $5 was before or after the discount, and the guy didn't care. He said he just wanted to get rid of the inventory. 85% off would be about $0.75 each, but that sounded too low, so I asked if I could have all 3 for $5, which seemed fair to me. Heck, even at a $1.66 a piece, that was still a steal.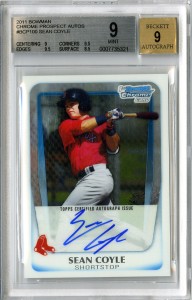 BGS 9/9 Sean Coyle auto.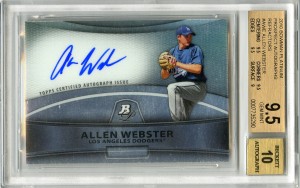 The best one of the three, a BGS 9.5/10 Allen Webster auto. I had been looking for one of these for a while, and getting a high graded copy for $1.66 was just awesome.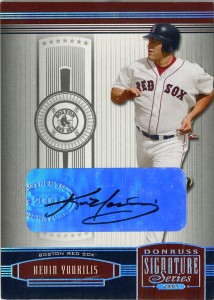 2005 Donruss Signature Series Kevin Youkilis auto. Sealed and slabbed, and something I've been looking for for a long time. Gorgeous card.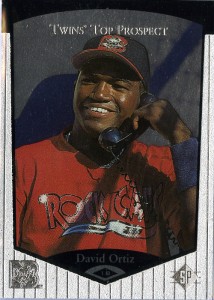 Second to last card, and you'll see why in a second. 1998 SP Top Prospects David Ortiz. It's not quite the 1997 Fleer I've been hunting, but it's still pretty awesome. I love early cards like this, especially for one of my favorite players. Just look at the smile on the big crazy bastard, how can you not love Papi? So, if that's the second to last card… what's better than that?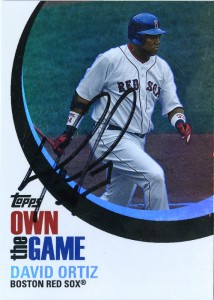 That. So, this is a 2007 Topps Own the Game insert card, that's been apparently hand-signed. I completely gambled on this. Hand signed stuff is always risky. At $10 I took the risk. Most Ortiz autos are well north of $50, and the higher end stuff in the multiple hundreds. For $10, why not. I'll send it into to Beckett/JSA at some point and see if it's real. I hope it is.
So, there we have it. The whole card show haul. If you don't count the parking and the $5 for a shoebox, I think I made out fairly well. Thanks for sticking with me this week and taking a look at all these. We'll be back to regularly scheduled shenanigans soon.