A friend from church asked me last week how I was staying sane with all that was going on. I didn't know how to reply at the time, but think at least part of the answer is in my messenger bag.
Last November, for our anniversary, my wife got me a really really nice messenger bag. Leather and ballistic nylon, with heavy duty hardware, magnetic closures and a really heavy duty strap. I really like it. I've been taking it to work with me every day since I got it.
Since we've been making frequent trips to hospitals and the in-laws, I've found a need to be prepared for just about anything. My current benchmark is to be prepared for a 48hr stay in a hospital waiting room. We've done the 48hr strait waiting game 3 times now, and each time I'm more and more prepared.
I thought perhaps it would be interesting to mention what I've got in my bag at the moment. Who knows, it could be enlightening.
Click for a larger image, with labels, but come back here for the explanations.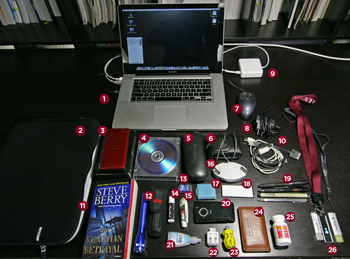 1) MacBook Pro – This is kind of obvious. I use it at work, at home, and on the road. The bag originally wasn't designed as a laptop bag, it lacks any padding in the middle compartment, which leads to…
2) Incase Neoprene Laptop Sleeve – Super soft inside, extra thick SCUBA suit neoprene outside. Great laptop sleeve. Keeps the MPB from getting all scratched up.
3) Nintendo DS with Hard Case and R4 – Perfect for a little gaming while in waiting rooms. Mario cart, Crono Trigger and Brain Age are plenty to keep me busy and the R4 adds all kinds of awesome homebrew.
4) DVDs for playing on the laptop. Usually I'll stick our Netflix into hard jewel cases and bring them with us.
5) Eyeglass and carrying case. Gotta keep that eye strain at bay.
6) Canon Powershot – Our point and shoot. That's in the bag just in case there's something I feel like taking a picture of. Plenty of resolution for cool shots without the hassle of lugging around a DLSR.
7) Logitech Notebook Travel Mouse – Not the best mouse in the world, but retouching on the road with the trackpad just feasible.
8 ) Cell phone charger
9) MPB Power cord
10) USB Cords for the camera, my 8g SanDisk Sansa, cell phone, etc.
11) Book – This week it's a Steve Berry novel, last week it was Robert Ludlum. I've always got to have a good book with me.
12) Flashlights – 1 Mini MagLite and 1 Coast Tactical LED Light. The Maglite is super reliable and I've had it for years. The Coast flashlight is an ultra bright compact LED light used by SWAT and military teams. It's more for emergency situations. Better safe than sorry.
13) Zalman Thermal Paste – I was putting together a system last week. You never know when you might need some, lol.
14) Chapstick
15) Pocket Knife
16) 10ft Retractable Network Cable – My company gave these away as a door prize and it's been incredibly handy so far. For those times when there's no WiFi but you need to connect anyways. Certain beats have a chunck of cable in your bag.
17) Kingston Micro SD Adapter – The NDS R4 uses a 4g MicroSD card, and I can also use it in the camera in a pinch.
18) Apple Remote – Comes in handy playing DVDs
19) Pens – A couple of my favorites. My Cross pen and a Micron among others.
20) 8G Sandisk Sansa – They've discontinued my model, but still an awesome MP3 player. It connects as a USB drive, so all you have to do is add contents to a "music" folder and it figured out the rest. Much better than the iPod in terms of DRM free use and flexibility.
21) Visine – Been having a lot of "dry" eyes lately. A little Visine at the end of the day really helps.
22) MBP power plug – Turns the power cord into a wall wart. Why you'd want to do that I'll never know, but I have it just in case I need to find out.
23) Teeny Turner – named that wrong on the photo. Awesome little 8-in-1 screw driver that includes even some weird ones, like Torx 5,6 and 8.
24) Business Card Wallet – You never want to run out of business cards and this little guy will hold 50 easily. Plus it's soft leather so it won't get all banged up.
25) Various drugs – A little mix of Tylenol, Advil and Excedrin
26) USB thumb drives – a 2G, 4G and 8G USB drive, for shuttling files from one computer to another.
So… that's my bag. What's in yours?